Weruva is a family owned, natural pet food company that was founded in 2006 by David and Stacie Forman. They inspired the name "Weruva" from the names of their three rescue cats: Webster, Rudi and Vanessa.
Their mission is centered around the fact that pets are part of the family so putting their needs at the forefront translates into feeding them like we would feed ourselves. What began as just a line of cat food products has also expanded into dog food products as well.
Their headquarters are in Massachusetts, though all of their products are manufactured in human-grade facilities in Thailand. As a result, their food is made adhering to strict standards for safety and quality. Weruva is even certified by the British Retail Consortium (BRC), a certification that comes when food processing meets the strictest standards, including those of the European Union.
The 83 diverse product lineup of flavoursome and nutritional wet cat food is largely chicken or fish based, making each product rich in protein and species appropriate for your carnivorous feline. They use only locally sourced ingredients to ensure that each dish is not only safe, but also highly palatable. Weruva is known for their hydration intensive foods made with simple ingredients to cultivate a complete and balanced diet for adult pets.
Now that you know more about Weruva as a brand, it's time to find out more about their products. To help you better decide on whether Weruva's cat food is the right fit for your feline, we've reviewed Weruva's highest rated wet cat food below.
How does Weruva stack up as a brand – Nutritional Comparisons
Weruva Dry Food (avg)
Industry (avg)
Protein
N/A
34
Fat
N/A
14
Fibre
N/A
4.5
Avg Review
(/5)
N/A
4.3
Weruva Wet Food (avg)
Industry (avg)
Protein

9.2

10

Fat
2.1
4
Fibre
0.8
1.25
Avg Review
(/5)
4.2
4.1
Thus far, Weruva cat food has not been involved in any pet food recalls. However, their Best Feline Friend (BFF) range, an Australia exclusive product line, was recalled in 2017 due to low thiamine levels. But it's important to note that the products affected had been manufactured in a facility that doesn't handle other Weruva products.
Top Blue Buffalo products
Blue Buffalo Wilderness High Protein Natural Adult Dry Cat Food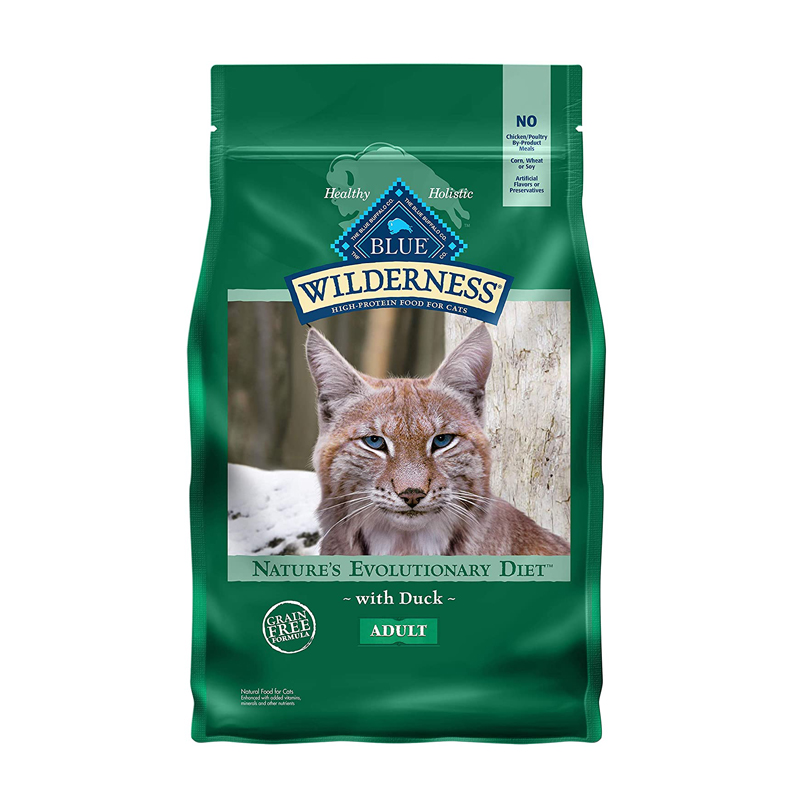 Price per 100 calories: $0.18
Blue Buffalo Indoor Health Natural Adult Dry Cat Food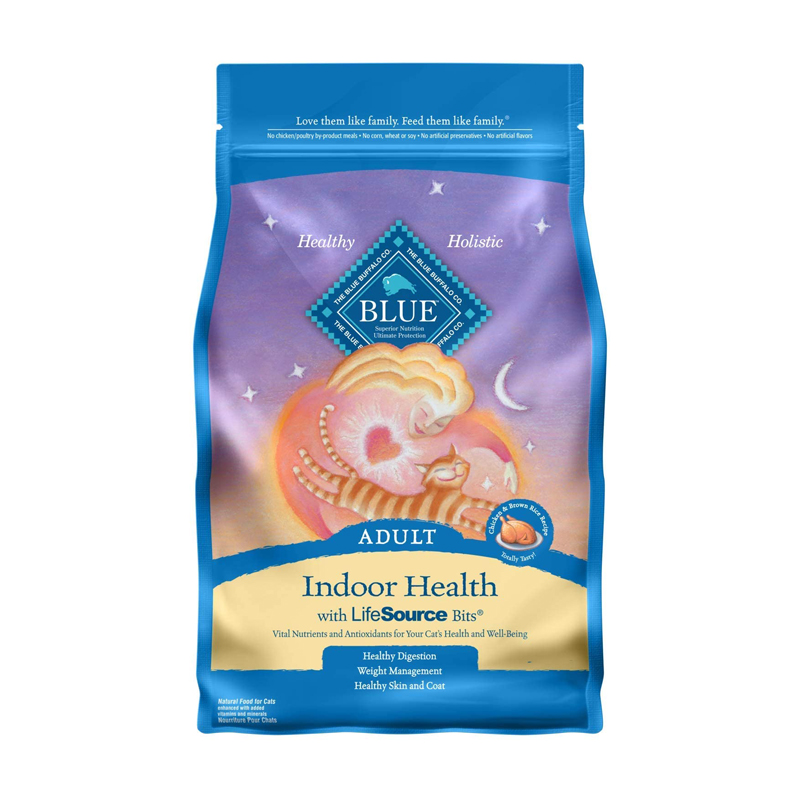 Price per 100 calories: $0.15
A balanced blend of amino acids, omega fatty acids and taurine for heart and vision health

Made with tuna as first ingredient

Satisfies cravings and picky eaters by containing savory gelee in every recipe

Grain-free wet cat food with zero GMOs

Made in a human grade facility
The first and most popular pick from Weruva is their grain-free, wet canned food. This recipe is an Asian Fusion inspired blend of hand flaked off the bone red meat Tuna & Shirasu (baby Japanese anchovies), though you can choose from a wide variety of flavors like chicken, tilapia and paella.
We love this product for it's no fuss, nutritious and delicious elements. Every bite is perfectly tailored to your cat's carnivorous taste buds because it's protein rich, low in carbs and made with limited ingredients. That means there are no traces of grain, gluten, carrageenan, corn, wheat or soy.
You can also be rest assured that you're feeding your cat quality food that supports their urinary tract health, as these canned products are low in phosphorus, ask and magnesium. Instead, it's packed with a balanced blend of all the vitamins, minerals and antioxidants that your cat needs, including taurine for heart and vision health.
Weruva Asian Fusion with Tuna & Shirasu Grain-Free Natural Canned Cat Food contains 120 calories per 5.5 oz can.
Ingredients:
Tuna Red Meat, Water Sufficient For Processing, Shirasu, Vegetable Gums (Locust Bean, Guar, Carrageenan), Sunflower Seed Oil, Dicalcium Phosphate, Choline Chloride, Taurine, Vitamin E Supplement, Zinc Sulfate, Thiamine Mononitrate (Vitamin B1), Nicotinic Acid (Vitamin B3), Ferrous Sulfate, Calcium Pantothenate, Vitamin A Supplement, Potassium Iodide, Manganese Sulfate, Vitamin D3 Supplement, Copper Sulfate, Riboflavin Supplement (Vitamin B2), Pyridoxine Hydrochloride (Vitamin B6), Folic Acid, Menadione Sodium Bisulfite Complex (Source of Vitamin K), Vitamin B12 Supplement.
Free from gains and artificial colors, flavors and preservatives

Recipes include high quality protein

A rich variety of palatable flavors

Contains essential vitamins and minerals like calcium, fibre and taurine

Hydrating formulas from real broth
Lacking the addition of probiotics
The Cats in the Kitchen range from Weruva is the perfect species appropriate diet for every kind of cat, even the picky ones. The recipes in this line are produced in BRC certified facilities that are approved for making food for both people and pets. So you can be even more confident that what you're feeding your cat is made with the highest safety standards in place.
We love how there is a variety of flavors, like chicken, lamb and salmon to satisfy every taste bud. Your cat's health will be supported through the dominance of real, sustainably sourced animal protein in each recipe. But Weruva also ensured to include plenty of essential amino acids and minerals to boost your kitty's immunity and wellbeing.
Every bite is formulated with essential nutrients and antioxidants like taurine and omega fatty acids. Not to mention, it's made with real broth for added hydration that aids digestive and urinary health.
Overall, these are easy to use, single portion cans that can be fed on their own or as toppers for kibble. Regardless, your kitty will be smacking their lips at the flavorful, protein rich, gravy covered texture.
The four most popular recipes are included in a convenient 12-pack:
Funk in the Trunk contains 54 calories per 3.2-oz can.
Chicken Frick 'A Zee contains 76 calories per 3.2-oz can.
Lamb Burger-ini contains 82 calories per 3.2 oz can.
Kitty Gone Wild contains 58 calories per 3.2-oz can.
Ingredients:
Can One (Lamb Burger-ini): Fish Broth, Lamb, Tuna, Lamb Lung, Locust Bean Gum, Sunflower Seed Oil, Tricalcium Phosphate, Guar Gum, Fish Oil, Xanthan Gum, Potassium Chloride, Choline Chloride, Taurine, Vitamin E Supplement, Zinc Sulfate, Thiamine Mononitrate (Vitamin B1), Nicotinic Acid (Vitamin B3), Calcium Pantothenate, Vitamin A Supplement, Potassium Iodide, Manganese Sulfate, Ferrous Sulfate, Vitamin D3 Supplement, Riboflavin Supplement (Vitamin B2), Pyridoxine Hydrochloride (Vitamin B6), Copper Sulfate, Folic Acid, Menadione Sodium Bisulfite (Source of Vitamin K), Vitamin B12 Supplement. Can Two (Chicken Frick 'A Zee): Chicken Broth, Chicken*, Locust Bean Gum, Sunflower Seed Oil, Guar Gum, Fish Oil, Xanthan Gum, Potassium Chloride, Choline Chloride, Taurine, Vitamin E Supplement, Zinc Sulfate, Thiamine Mononitrate (Vitamin B1), Nicotinic Acid (Vitamin B3), Calcium Pantothenate, Vitamin A Supplement, Potassium Iodide, Manganese Sulfate, Ferrous Sulfate, Vitamin D3 Supplement, Riboflavin Supplement (Vitamin B2), Pyridoxine Hydrochloride (Vitamin B6), Copper Sulfate, Folic Acid, Vitamin B12 Supplement * A combination of boneless, skinless white breast and other chicken cuts Can Three (Kitty Gone Wild): Fish Broth, Salmon, Tuna, Sardine, Mackerel, Locust Bean Gum, Sunflower Seed Oil, Guar Gum, Xanthan Gum, Fish Oil, Potassium Chloride, Choline Chloride, Taurine, Vitamin E Supplement, Zinc Sulfate, Thiamine Mononitrate (Vitamin B1), Nicotinic Acid (Vitamin B3), Calcium Pantothenate, Vitamin A Supplement, Potassium Iodide, Manganese Sulfate, Ferrous Sulfate, Vitamin D3 Supplement, Riboflavin Supplement (Vitamin B2), Pyridoxine Hydrochloride (Vitamin B6), Copper Sulfate, Folic Acid, Menadione Sodium Bisulfite (Source of vitamin K), Vitamin B12 Supplement Can Four (Funk in the Trunk): Chicken Broth, Chicken (Boneless, Skinless, White Breast), Tuna, Pumpkin, Sunflower Seed Oil, Locust Bean Gum, Tricalcium Phosphate, Fish Oil, Guar Gum, Xanthan Gum, Potassium Chloride, Choline Chloride, Taurine, Vitamin E Supplement, Zinc Sulfate, Thiamine Mononitrate (Vita­min B1), Nicotinic Acid (Vitamin B3), Calcium Pantothenate, Vitamin A Supplement, Potassium Iodide, Manganese Sulfate, Ferrous Sulfate, Riboflavin Supplement (Vitamin B2), Pyridoxine Hydrochloride (Vitamin B6), Vitamin D3 Supplement, Copper Sulfate, Folic Acid, Vitamin B12 Supplement
Complete List of Weruva Dry Food
Product Name
Protein
Fat
Fibre
Weruva Cats in the Kitchen Love Me Tender Chicken & Duck Recipe Grain-Free Cat Food Pouches, 3-oz pouch, case of 12
https://prf.hn/click/camref:1011l9JgF/pubref:weruva-product-list/destination:https%3A%2F%2Fwww.chewy.com%2Fweruva-cats-in-kitchen-love-me-tender%2Fdp%2F176590
9
1.4
0.5
Weruva Cats in the Kitchen Pumpkin Lickin' Chicken in Pumpkin Soup Grain-Free Cat Food Pouches, 3-oz pouch, case of 12
https://prf.hn/click/camref:1011l9JgF/pubref:weruva-product-list/destination:https%3A%2F%2Fwww.chewy.com%2Fweruva-cats-in-kitchen-pumpkin-lickin%2Fdp%2F176588
9
1.4
0.5
Weruva Slide N' Serve The Showcase Chowdown Variety Pack Pate Grain-Free Cat Food Pouches, 2.8-oz pouch, case of 16
https://prf.hn/click/camref:1011l9JgF/pubref:weruva-product-list/destination:https%3A%2F%2Fwww.chewy.com%2Fweruva-slide-n-serve-showcase%2Fdp%2F176362
9
3.5
1
Weruva Mideast Feast with Grilled Tilapia in Gravy Grain-Free Canned Cat Food, 3-oz, case of 24
https://prf.hn/click/camref:1011l9JgF/pubref:weruva-product-list/destination:https%3A%2F%2Fwww.chewy.com%2Fweruva-mideast-feast-grilled-tilapia%2Fdp%2F34492
12
1.5
1
Weruva Classic Cat Press Your Lunch! Chicken Pate Canned Cat Food, 5.5-oz can, case of 8
https://prf.hn/click/camref:1011l9JgF/pubref:weruva-product-list/destination:https%3A%2F%2Fwww.chewy.com%2Fweruva-classic-cat-press-your-lunch%2Fdp%2F204855
8
2
1
Weruva Paw Lickin' Pals Variety Pack Grain-Free Canned Cat Food, 5.5-oz, case of 24
https://prf.hn/click/camref:1011l9JgF/pubref:weruva-product-list/destination:https%3A%2F%2Fwww.chewy.com%2Fweruva-paw-lickin-pals-variety-pack%2Fdp%2F169209
10
1.4
0.5
Weruva Cats in the Kitchen Funk In The Trunk Chicken in Pumpkin Consomme Grain-Free Canned Cat Food, 6-oz, case of 24
https://prf.hn/click/camref:1011l9JgF/pubref:weruva-product-list/destination:https%3A%2F%2Fwww.chewy.com%2Fweruva-cats-in-kitchen-funk-in-trunk%2Fdp%2F43945
10
1.6
0.5
Weruva Cats in the Kitchen Kitty Gone Wild Salmon Au Jus Grain-Free Canned Cat Food, 3.2-oz, case of 24
https://prf.hn/click/camref:1011l9JgF/pubref:weruva-product-list/destination:https%3A%2F%2Fwww.chewy.com%2Fweruva-cats-in-kitchen-kitty-gone%2Fdp%2F43948
10
1.6
0.5
Weruva TruLuxe TruSurf Variety Pack Grain-Free Canned Cat Food, 3-oz, case of 24
https://prf.hn/click/camref:1011l9JgF/pubref:weruva-product-list/destination:https%3A%2F%2Fwww.chewy.com%2Fweruva-truluxe-trusurf-variety-pack%2Fdp%2F169216
10
1.3
0.5
Weruva Slide N' Serve Name 'Dat Tuna Tuna Dinner Pate Grain-Free Cat Food Pouches, 2.8-oz pouch, case of 12
https://prf.hn/click/camref:1011l9JgF/pubref:weruva-product-list/destination:https%3A%2F%2Fwww.chewy.com%2Fweruva-slide-n-serve-name-dat-tuna%2Fdp%2F176356
8
1.5
1
Weruva Truluxe Mediterranean Harvest with Tuna & Veggies in Gravy Grain-Free Canned Cat Food, 3-oz, case of 24
https://prf.hn/click/camref:1011l9JgF/pubref:weruva-product-list/destination:https%3A%2F%2Fwww.chewy.com%2Fweruva-truluxe-mediterranean-harvest%2Fdp%2F104715
10 5zaq
YQ
0.5
Weruva Slide N' Serve Meal of Fortune Chicken Breast Dinner With Chicken Liver Pate Grain-Free Cat Food Pouches, 2.8-oz pouch, case of 12
https://prf.hn/click/camref:1011l9JgF/pubref:weruva-product-list/destination:https%3A%2F%2Fwww.chewy.com%2Fweruva-slide-n-serve-meal-fortune%2Fdp%2F176353
8
1.5
1
Weruva Truluxe Steak Frites with Beef & Pumpkin in Gravy Grain-Free Canned Cat Food, 3-oz, case of 24
https://prf.hn/click/camref:1011l9JgF/pubref:weruva-product-list/destination:https%3A%2F%2Fwww.chewy.com%2Fweruva-truluxe-steak-frites-beef%2Fdp%2F104733
10
1.3
0.5
Weruva Truluxe Kawa Booty with Kawakawa Tuna in Gravy Grain-Free Canned Cat Food, 3-oz, case of 24
https://prf.hn/click/camref:1011l9JgF/pubref:weruva-product-list/destination:https%3A%2F%2Fprf.hn%2Fclick%2Fcamref%3A1011l9JgF%2Fpubref%3Aweruva-product-list%2Fdestination%3Ahttps%253A%252F%252Fwww.chewy.com%252Fweruva-truluxe-steak-frites-beef%252Fdp%252F104733
10
1.4
0.5
Weruva Slide N' Serve The Slice is Right Wild Caught Salmon Dinner Pate Grain-Free Cat Food Pouches, 2.8-oz pouch, case of 12
https://prf.hn/click/camref:1011l9JgF/pubref:weruva-product-list/destination:https%3A%2F%2Fwww.chewy.com%2Fweruva-slide-n-serve-slice-is-right%2Fdp%2F176364
8
1.5
1
Weruva Cats in the Kitchen The Double Dip Chicken & Beef Au Jus Grain-Free Canned Cat Food, 6-oz, case of 24
https://prf.hn/click/camref:1011l9JgF/pubref:weruva-product-list/destination:https%3A%2F%2Fwww.chewy.com%2Fweruva-cats-in-kitchen-double-dip%2Fdp%2F43957
8
2.5
0.5
Weruva Mack and Jack with Mackerel & Grilled Skipjack Grain-Free Canned Cat Food, 5.5-oz, case of 24
https://prf.hn/click/camref:1011l9JgF/pubref:weruva-product-list/destination:https%3A%2F%2Fwww.chewy.com%2Fweruva-mack-jack-mackerel-grilled%2Fdp%2F34485
12
1.7
1
Weruva Cats in the Kitchen Two Tu Tango Sardine, Tuna & Turkey Recipe Au Jus Grain-Free Canned Cat Food, 6-oz, case of 24
https://prf.hn/click/camref:1011l9JgF/pubref:weruva-product-list/destination:https%3A%2F%2Fwww.chewy.com%2Fweruva-cats-in-kitchen-two-tu-tango%2Fdp%2F43959
10
1.6
0.5
Weruva Truluxe On The Cat Wok with Chicken & Beef in Pumpkin Soup Grain-Free Canned Cat Food, 3-oz, case of 24
https://prf.hn/click/camref:1011l9JgF/pubref:weruva-product-list/destination:https%3A%2F%2Fprf.hn%2Fclick%2Fcamref%3A1011l9JgF%2Fpubref%3Aweruva-product-list%2Fdestination%3Ahttps%253A%252F%252Fwww.chewy.com%252Fweruva-cats-in-kitchen-two-tu-tango%252Fdp%252F43959
10
1.3
0.5
Weruva Classic Cat Stewlander Duck & Salmon in Gravy Stew Canned Cat Food, 5.5-oz can, case of 8
https://prf.hn/click/camref:1011l9JgF/pubref:weruva-product-list/destination:https%3A%2F%2Fwww.chewy.com%2Fweruva-classic-cat-stewlander-duck%2Fdp%2F204879
7
4
1
Weruva Classic Cat What a Crock Chicken & Salmon in Gravy Stew Cat Food Pouches, 3-oz pouch, 12 count
https://prf.hn/click/camref:1011l9JgF/pubref:weruva-product-list/destination:https%3A%2F%2Fwww.chewy.com%2Fweruva-classic-cat-what-crock-chicken%2Fdp%2F204890
7
4
1
Weruva Pumpkin Patch Pounce Variety Pack Canned Cat Food, 3-oz, pack of 12
https://amzn.to/2Kx0aQL
10
1.4
0.5
Weruva Truluxe Meow Me A River with Basa in Gravy Grain-Free Canned Cat Food, 3-oz, case of 24
https://prf.hn/click/camref:1011l9JgF/pubref:weruva-product-list/destination:https%3A%2F%2Fwww.chewy.com%2Fweruva-truluxe-meow-me-river-basa-in%2Fdp%2F104718
10
1.3
0.5
Weruva Outback Grill with Trevally & Barramundi Grain-Free Canned Cat Food, 5.5-oz, case of 24
https://prf.hn/click/camref:1011l9JgF/pubref:weruva-product-list/destination:https%3A%2F%2Fwww.chewy.com%2Fweruva-outback-grill-trevally%2Fdp%2F34499
10
1.4
1
Weruva Classic Cat Stick a Spork in It Duck & Salmon in Gravy Stew Cat Food Pouches, 3-oz pouch, 12 count
https://prf.hn/click/camref:1011l9JgF/pubref:weruva-product-list/destination:https%3A%2F%2Fwww.chewy.com%2Fweruva-classic-cat-stick-spork-in-it%2Fdp%2F204894
7
4
1
Weruva Classic Cat Too Hot to Handle Chicken, Duck & Salmon in Gravy Stew Cat Food Pouches, 3-oz pouch, 12 count
https://prf.hn/click/camref:1011l9JgF/pubref:weruva-product-list/destination:https%3A%2F%2Fwww.chewy.com%2Fweruva-classic-cat-too-hot-to-handle%2Fdp%2F204892
7
4
1
Weruva Holy Chicken Mackerel Variety Pack Grain-Free Canned Cat Food, 10-oz, case of 12
https://prf.hn/click/camref:1011l9JgF/pubref:weruva-product-list/destination:https%3A%2F%2Fwww.chewy.com%2Fweruva-holy-chicken-mackerel-variety%2Fdp%2F120555%3Futm_source%3Dpartnerize%26utm_medium%3Daffiliates%26utm_campaign%3D1101l114191%26utm_content%3D0%26clickref%3D1101lcYUI4Fn%26utm_term%3D1101lcYUI4Fn%26utm_source%3Dpartnerize%26utm_medium%3Daffiliates%26utm_campaign%3D1101l114191%26utm_content%3D0%26clickref%3D1011lcYSjZyN%26utm_term%3D1011lcYSjZyN
12
1.7
1
Weruva Classic Cat Taco Stewsday Beef, Chicken & Salmon in Gravy Canned Cat Food, 2.8-oz can, case of 12
https://prf.hn/click/camref:1011l9JgF/pubref:weruva-product-list/destination:https%3A%2F%2Fwww.chewy.com%2Fweruva-classic-cat-taco-stewsday-beef%2Fdp%2F204887
6.5
4
1
Weruva Truluxe Honor Roll with Saba in Gravy Grain-Free Canned Cat Food, 3-oz, case of 24
https://prf.hn/click/camref:1011l9JgF/pubref:weruva-product-list/destination:https%3A%2F%2Fwww.chewy.com%2Fweruva-truluxe-honor-roll-saba-in%2Fdp%2F104709
10
1.3
0.5
Weruva Classic Cat Kettle Call Beef, Chicken & Salmon in Gravy Stew Cat Food Pouches, 3-oz pouch, 12 count
https://prf.hn/click/camref:1011l9JgF/pubref:weruva-product-list/destination:https%3A%2F%2Fwww.chewy.com%2Fweruva-classic-cat-kettle-call-beef%2Fdp%2F204900
6
4
1
Weruva Classic Cat Simmer Down Turkey, Chicken & Salmon in Gravy Stew Cat Food Pouches, 3-oz pouch, 12 count
https://prf.hn/click/camref:1011l9JgF/pubref:weruva-product-list/destination:https%3A%2F%2Fprf.hn%2Fclick%2Fcamref%3A1011l9JgF%2Fpubref%3Aweruva-product-list%2Fdestination%3Ahttps%253A%252F%252Fwww.chewy.com%252Fweruva-classic-cat-kettle-call-beef%252Fdp%252F204900
7
4
1
Weruva Classic Cat Stewy Lewis Lamb, Chicken & Salmon in Gravy Stew Canned Cat Food, 2.8-oz can, case of 12
https://prf.hn/click/camref:1011l9JgF/pubref:weruva-product-list/destination:https%3A%2F%2Fwww.chewy.com%2Fweruva-classic-cat-stewy-lewis-lamb%2Fdp%2F204884
7
4
1
Weruva Marbella Paella with Mackerel, Shrimp & Mussels Grain-Free Canned Cat Food, 5.5-oz, case of 24
https://prf.hn/click/camref:1011l9JgF/pubref:weruva-product-list/destination:https%3A%2F%2Fwww.chewy.com%2Fweruva-marbella-paella-mackerel%2Fdp%2F34487
12
1.6
0.5
Weruva Asian Fusion with Tuna & Shirasu Grain-Free Canned Cat Food, 5.5-oz, case of 24
https://prf.hn/click/camref:1011l9JgF/pubref:weruva-product-list/destination:https%3A%2F%2Fwww.chewy.com%2Fweruva-asian-fusion-tuna-shirasu%2Fdp%2F34477
12
1.6
0.5
Weruva Classic Cat Stewbacca Chicken, Duck & Salmon in Gravy Stew Canned Cat Food, 2.8-oz can, case of 12
https://prf.hn/click/camref:1011l9JgF/pubref:weruva-product-list/destination:https%3A%2F%2Fwww.chewy.com%2Fweruva-classic-cat-stewbacca-chicken%2Fdp%2F204875
7
4
1
Weruva Cats in the Kitchen Cat to The Future with Chicken & Salmon Grain-Free Cat Food Pouches, 3-oz pouch, case of 12
https://prf.hn/click/camref:1011l9JgF/pubref:weruva-product-list/destination:https%3A%2F%2Fwww.chewy.com%2Fweruva-cats-in-kitchen-cat-to-future%2Fdp%2F204938
9
2
1
Weruva Classic Cat Stew's Clues Turkey, Chicken & Salmon in Gravy Stew Wet Canned Cat Food, 2.8-oz can, case of 12
https://prf.hn/click/camref:1011l9JgF/pubref:weruva-product-list/destination:https%3A%2F%2Fwww.chewy.com%2Fweruva-classic-cat-stews-clues-turkey%2Fdp%2F204881
7
4
1
Weruva Green Eggs & Chicken with Chicken, Egg & Greens in Gravy Grain-Free Canned Cat Food, 5.5-oz, case of 24
https://prf.hn/click/camref:1011l9JgF/pubref:weruva-product-list/destination:https%3A%2F%2Fwww.chewy.com%2Fweruva-green-eggs-chicken-chicken-egg%2Fdp%2F34483
10
1.6
0.5
Weruva Classic Cat Stir the Pot with Lamb, Chicken & Salmon in Gravy Stew Cat Food Pouches, 3-oz pouch, 12 count
https://prf.hn/click/camref:1011l9JgF/pubref:weruva-product-list/destination:https%3A%2F%2Fwww.chewy.com%2Fweruva-classic-cat-stir-pot-lamb%2Fdp%2F204898
7
4
1
Weruva Funky Chunky Chicken Soup with Pumpkin Grain-Free Canned Cat Food, 5.5-oz, case of 24
https://prf.hn/click/camref:1011l9JgF/pubref:weruva-product-list/destination:https%3A%2F%2Fwww.chewy.com%2Fweruva-funky-chunky-chicken-soup%2Fdp%2F34479
8
1.2
0.5
Weruva Cats in the Kitchen Cattyshack with Chicken & Shrimp Pate Grain-Free Cat Food Pouches, 3-oz pouch, case of 12
https://prf.hn/click/camref:1011l9JgF/pubref:weruva-product-list/destination:https%3A%2F%2Fwww.chewy.com%2Fweruva-cats-in-kitchen-cattyshack%2Fdp%2F204948
8
2
1
Weruva Cats in the Kitchen The Karate Kitty with Beef & Salmon Grain-Free Cat Food Pouches, 3-oz pouch, case of 12
https://prf.hn/click/camref:1011l9JgF/pubref:weruva-product-list/destination:https%3A%2F%2Fwww.chewy.com%2Fweruva-cats-in-kitchen-karate-kitty%2Fdp%2F204946
9
1
1
Weruva Truluxe Glam 'N Punk with Lamb & Duck in Gelee Grain-Free Canned Cat Food, 3-oz, case of 24
https://prf.hn/click/camref:1011l9JgF/pubref:weruva-product-list/destination:https%3A%2F%2Fwww.chewy.com%2Fweruva-truluxe-glam-n-punk-lamb-duck%2Fdp%2F104706
10
5
0.5
Weruva Slide N' Serve The Newly Feds Beef & Salmon Dinner Pate Grain-Free Cat Food Pouches, 2.8-oz pouch, case of 12
https://prf.hn/click/camref:1011l9JgF/pubref:weruva-product-list/destination:https%3A%2F%2Fwww.chewy.com%2Fweruva-slide-n-serve-newly-feds-beef%2Fdp%2F176359
9
1.5
1
Weruva Classic Cat Goody Stew Shoes Chicken & Salmon in Gravy Stew Canned Cat Food, 2.8-oz can, case of 12
https://prf.hn/click/camref:1011l9JgF/pubref:weruva-product-list/destination:https%3A%2F%2Fwww.chewy.com%2Fweruva-classic-cat-goody-stew-shoes%2Fdp%2F204872
7
4
1
Weruva Slide N' Serve Let's Make a Meal Lamb & Mackerel Dinner Pate Grain-Free Cat Food Pouches, 2.8-oz pouch, case of 12
https://prf.hn/click/camref:1011l9JgF/pubref:weruva-product-list/destination:https%3A%2F%2Fwww.chewy.com%2Fweruva-slide-n-serve-lets-make-meal%2Fdp%2F176347
9
4
1
Weruva Classic Cat Meows n' Holler PurrAmid Chicken & Shrimp Pate Canned Cat Food, 5.5-oz can, case of 8
https://prf.hn/click/camref:1011l9JgF/pubref:weruva-product-list/destination:https%3A%2F%2Fwww.chewy.com%2Fweruva-classic-cat-meows-n-holler%2Fdp%2F204870
8
2
1
Weruva The 10 Ounce Pounce Variety Pack Grain-Free Canned Cat Food, 10-oz, case of 12
https://prf.hn/click/camref:1011l9JgF/pubref:weruva-product-list/destination:https%3A%2F%2Fwww.chewy.com%2Fweruva-10-ounce-pounce-variety-pack%2Fdp%2F169212
12
1.5
1
Weruva Cats in the Kitchen Cat Times At Fridgemont with Duck & Tuna Grain-Free Cat Food Pouches, 3-oz pouch, case of 12
https://prf.hn/click/camref:1011l9JgF/pubref:weruva-product-list/destination:https%3A%2F%2Fwww.chewy.com%2Fweruva-cats-in-kitchen-cat-times-at%2Fdp%2F204944
8
2
1
Weruva Cats in the Kitchen La Isla Bonita Mackerel & Shrimp Au Jus Grain-Free Canned Cat Food, 6-oz, case of 24
https://prf.hn/click/camref:1011l9JgF/pubref:weruva-product-list/destination:https%3A%2F%2Fwww.chewy.com%2Fweruva-cats-in-kitchen-la-isla-bonita%2Fdp%2F43951
10
1.6
0.1
Weruva Truluxe Quick 'N Quirky with Chicken & Turkey in Gravy Grain-Free Canned Cat Food, 3-oz, case of 24
https://prf.hn/click/camref:1011l9JgF/pubref:weruva-product-list/destination:https%3A%2F%2Fwww.chewy.com%2Fweruva-truluxe-quick-n-quirky-chicken%2Fdp%2F104730
10
1.3
0.5
Weruva Slide N' Serve Family Food Chicken Breast Dinner with Tuna Pate Grain-Free Cat Food Pouches, 2.8-oz pouch, case of 12
https://prf.hn/click/camref:1011l9JgF/pubref:weruva-product-list/destination:https%3A%2F%2Fwww.chewy.com%2Fweruva-slide-n-serve-family-food%2Fdp%2F176341
9
3.5
1
Weruva Meow Luau with Mackerel & Pumpkin Grain-Free Canned Cat Food, 3-oz, case of 24
https://prf.hn/click/camref:1011l9JgF/pubref:weruva-product-list/destination:https%3A%2F%2Fwww.chewy.com%2Fweruva-meow-luau-mackerel-pumpkin%2Fdp%2F34490
12
1.5
1
Weruva Classic Cat Jolly Good Fares Chicken & Salmon Pate Canned Cat Food, 3-oz can, case of 12
https://prf.hn/click/camref:1011l9JgF/pubref:weruva-product-list/destination:https%3A%2F%2Fwww.chewy.com%2Fweruva-classic-cat-jolly-good-fares%2Fdp%2F204859
9
2
1
Weruva Cats in the Kitchen Goldie Lox Chicken & Salmon Au Jus Grain-Free Canned Cat Food, 6-oz, case of 24
https://prf.hn/click/camref:1011l9JgF/pubref:weruva-product-list/destination:https%3A%2F%2Fwww.chewy.com%2Fweruva-cats-in-kitchen-goldie-lox%2Fdp%2F43947
10
1.6
0.5
Weruva Cats in the Kitchen Meowiss Bueller with Chicken & Lamb Grain-Free Cat Food Pouches, 3-oz pouch, case of 12
https://prf.hn/click/camref:1011l9JgF/pubref:weruva-product-list/destination:https%3A%2F%2Fwww.chewy.com%2Fweruva-cats-in-kitchen-meowiss%2Fdp%2F204942
8
3.5
1
Weruva Cats in the Kitchen The Breakfast Cat with Chicken & Pumpkin Grain-Free Cat Food Pouches, 3-oz pouch, case of 12
https://prf.hn/click/camref:1011l9JgF/pubref:weruva-product-list/destination:https%3A%2F%2Fwww.chewy.com%2Fweruva-cats-in-kitchen-breakfast-cat%2Fdp%2F204940
9
2
1
Weruva Classic Cat Tic Tac Whoa Tuna & Salmon Pate Canned Cat Food, 3-oz can, case of 12
https://prf.hn/click/camref:1011l9JgF/pubref:weruva-product-list/destination:https%3A%2F%2Fwww.chewy.com%2Fweruva-classic-cat-tic-tac-whoa-tuna%2Fdp%2F204867
9
1.5
1
Weruva Truluxe Peking Ducken with Chicken & Duck in Gravy Grain-Free Canned Cat Food, 3-oz, case of 24
https://prf.hn/click/camref:1011l9JgF/pubref:weruva-product-list/destination:https%3A%2F%2Fwww.chewy.com%2Fweruva-truluxe-peking-ducken-chicken%2Fdp%2F104724
10
1.3
0.5
Weruva Slide N' Serve Love Connection Chicken & Salmon Dinner Pate Grain-Free Cat Food Pouches, 2.8-oz pouch, case of 12
https://prf.hn/click/camref:1011l9JgF/pubref:weruva-product-list/destination:https%3A%2F%2Fwww.chewy.com%2Fweruva-slide-n-serve-love-connection%2Fdp%2F176350
9
3.5
1
Weruva Grandma's Chicken Soup with Chicken & Pumpkin Grain-Free Canned Cat Food, 5.5-oz, case of 24
https://prf.hn/click/camref:1011l9JgF/pubref:weruva-product-list/destination:https%3A%2F%2Fwww.chewy.com%2Fweruva-grandmas-chicken-soup-chicken%2Fdp%2F34481
8
1.2
0.5
Weruva Polynesian BBQ with Grilled Red Bigeye Grain-Free Canned Cat Food, 5.5-oz, case of 24
https://www.chewy.com/weruva-polynesian-bbq-grilled-red/dp/34505
12
1.7
1
Weruva Chicken Gone Fishin' Variety Pack Grain-Free Canned Cat Food, 5.5-oz, case of 24
https://prf.hn/click/camref:1011l9JgF/pubref:weruva-product-list/destination:https%3A%2F%2Fwww.chewy.com%2Fweruva-chicken-gone-fishin-variety%2Fdp%2F120534
12
1.7
1
Weruva Truluxe Pretty In Pink with Salmon in Gravy Grain-Free Canned Cat Food, 3-oz, case of 24
https://prf.hn/click/camref:1011l9JgF/pubref:weruva-product-list/destination:https%3A%2F%2Fwww.chewy.com%2Fweruva-truluxe-pretty-in-pink-salmon%2Fdp%2F104727
10
1.3
0.5
Weruva Nine Liver with Chicken & Chicken Liver in Gravy Grain-Free Canned Cat Food, 5.5-oz, case of 24
https://prf.hn/click/camref:1011l9JgF/pubref:weruva-product-list/destination:https%3A%2F%2Fwww.chewy.com%2Fweruva-nine-liver-chicken-chicken%2Fdp%2F34495
10
1.4
0.5
Weruva TruLuxe TruTurf Variety Pack Grain-Free Canned Cat Food, 3-oz, case of 24
https://prf.hn/click/camref:1011l9JgF/pubref:weruva-product-list/destination:https%3A%2F%2Fwww.chewy.com%2Fweruva-truluxe-truturf-variety-pack%2Fdp%2F169218
10
1.3
0.5
Weruva Cats in the Kitchen Splash Dance Chicken & Ocean Fish Au Jus Grain-Free Canned Cat Food, 6-oz, case of 24
https://prf.hn/click/camref:1011l9JgF/pubref:weruva-product-list/destination:https%3A%2F%2Fwww.chewy.com%2Fweruva-cats-in-kitchen-splash-dance%2Fdp%2F43955
10
2.5
0.5
Weruva Cats in the Kitchen The Brat Pack Variety Pack Cat Food Pouches, 3-oz pouch, case of 12
https://prf.hn/click/camref:1011l9JgF/pubref:weruva-product-list/destination:https%3A%2F%2Fwww.chewy.com%2Fweruva-cats-in-kitchen-brat-pack%2Fdp%2F204950
8
2
1
Weruva Frisky Fishin' Friends Variety Pack Grain-Free Canned Cat Food, 5.5-oz, case of 24
https://prf.hn/click/camref:1011l9JgF/pubref:weruva-product-list/destination:https%3A%2F%2Fwww.chewy.com%2Fweruva-frisky-fishin-friends-variety%2Fdp%2F169214
12
1.5
1
Weruva Cats in the Kitchen Fowl Ball Chicken & Turkey Au Jus Grain-Free Canned Cat Food, 6-oz, case of 24
https://prf.hn/click/camref:1011l9JgF/pubref:weruva-product-list/destination:https%3A%2F%2Fwww.chewy.com%2Fweruva-cats-in-kitchen-fowl-ball%2Fdp%2F43943
8
2.5
0.5
Weruva Classic Cat Meal or No Deal Chicken & Beef Pate Canned Cat Food, 3-oz can, case of 12
https://prf.hn/click/camref:1011l9JgF/pubref:weruva-product-list/destination:https%3A%2F%2Fwww.chewy.com%2Fweruva-classic-cat-meal-or-no-deal%2Fdp%2F204862
8
1.5
1
Weruva Classic Cat Who Want To Be A Meowinaire Chicken & Pumpkin Pate Canned Cat Food, 3-oz can, case of 12
https://prf.hn/click/camref:1011l9JgF/pubref:weruva-product-list/destination:https%3A%2F%2Fwww.chewy.com%2Fweruva-classic-cat-who-want-to-be%2Fdp%2F204865
8
2
1
Weruva Cats in the Kitchen Lamb Burgini Lamb Au Jus Grain-Free Canned Cat Food, 3.2-oz, case of 24
https://prf.hn/click/camref:1011l9JgF/pubref:weruva-product-list/destination:https%3A%2F%2Fwww.chewy.com%2Fweruva-cats-in-kitchen-lamb-burgini%2Fdp%2F43952
10
2.5
0.5
Weruva Slide N' Serve Jeopurrdy Licious Chicken Dinner Pate Grain-Free Cat Food Pouches, 2.8-oz pouch, case of 12
https://prf.hn/click/camref:1011l9JgF/pubref:weruva-product-list/destination:https%3A%2F%2Fwww.chewy.com%2Fweruva-slide-n-serve-jeopurrdy%2Fdp%2F176344
9
4
1
Weruva Cats in the Kitchen Chick Magnet Chicken & Mackerel Recipe Grain-Free Cat Food Pouches, 3-oz pouch, case of 12
https://prf.hn/click/camref:1011l9JgF/pubref:weruva-product-list/destination:https%3A%2F%2Fwww.chewy.com%2Fweruva-cats-in-kitchen-chick-magnet%2Fdp%2F176589
9
1.4
0.5
Weruva Cats in the Kitchen Goldie Lox and the 3 Fares Variety Pack Grain-Free Canned Cat Food, 6-oz, case of 24
https://prf.hn/click/camref:1011l9JgF/pubref:weruva-product-list/destination:https%3A%2F%2Fwww.chewy.com%2Fweruva-cats-in-kitchen-goldie-lox-3%2Fdp%2F120532
10
1.6
0.5
Weruva Cats in the Kitchen Chicken Frick 'A Zee Chicken Recipe Au Jus Grain-Free Canned Cat Food, 6-oz, case of 24
https://prf.hn/click/camref:1011l9JgF/pubref:weruva-product-list/destination:https%3A%2F%2Fwww.chewy.com%2Fweruva-cats-in-kitchen-chicken-frick%2Fdp%2F43941
10
2.5
0.5
Weruva Paw Lickin' Chicken in Gravy Grain-Free Canned Cat Food, 3-oz, case of 24
https://prf.hn/click/camref:1011l9JgF/pubref:weruva-product-list/destination:https%3A%2F%2Fwww.chewy.com%2Fweruva-paw-lickin-chicken-in-gravy%2Fdp%2F34500
10
1.4
0.5
Weruva Cats in the Kitchen 1 If By Land, 2 If By Sea Tuna, Beef & Salmon Recipe Grain-Free Cat Food Pouches, 3-oz pouch, case of 12
https://prf.hn/click/camref:1011l9JgF/pubref:weruva-product-list/destination:https%3A%2F%2Fwww.chewy.com%2Fweruva-cats-in-kitchen-1-if-by-land-2%2Fdp%2F176592
9
1.4
0.5
Weruva Cats in the Kitchen Pumpkin Jack Splash Tuna in Pumpkin Soup Grain-Free Cat Food Pouches, 3-oz pouch, case of 12
https://prf.hn/click/camref:1011l9JgF/pubref:weruva-product-list/destination:https%3A%2F%2Fwww.chewy.com%2Fweruva-cats-in-kitchen-pumpkin-jack%2Fdp%2F176591
9
1.4
0.5
Weruva Cats in the Kitchen Mack, Jack & Sam Salmon, Mackerel & Tuna Recipe Grain-Free Cat Food Pouches, 3-oz pouch, case of 12
https://prf.hn/click/camref:1011l9JgF/pubref:weruva-product-list/destination:https%3A%2F%2Fwww.chewy.com%2Fweruva-cats-in-kitchen-mack-jack-sam%2Fdp%2F176593
9
1.4
0.5
Weruva Cats in the Kitchen Cuties Variety Pack Grain-Free Canned Cat Food, 3.2-oz, case of 12
https://prf.hn/click/camref:1011l9JgF/pubref:weruva-product-list/destination:https%3A%2F%2Fwww.chewy.com%2Fweruva-cats-in-kitchen-cuties-variety%2Fdp%2F143141
10
1.6
0.5
Weruva Cats in the Kitchen Variety Pack Grain-Free Cat Food Pouches, 3-oz, case of 12
https://prf.hn/click/camref:1011l9JgF/pubref:weruva-product-list/destination:https%3A%2F%2Fwww.chewy.com%2Fweruva-cats-in-kitchen-variety-pack%2Fdp%2F143139
9
1.4
0.5