Tiki Cat Foods are owned by a pet company called Petropics, which started out as Tiki Cat. And it all originated from Christine Hackett and her husband in 2005 after they noticed the gaps in the pet food industry. 
Christine was inspired after working in the research and development department of Petco. This fueled her desire and motivation to derive solutions to the problems she observed. Today, they are a well respected pet food brand, manufacturing food for both dogs and cats. 
They have gained a devoted following due to their low-carb, rich, nutritious recipes. Most of their products include wet formulas that feature human-grade chunks of meat and fish with juicy hydration. 
Tiki Cat is made in Thailand and describes their manufacturing facilities as "award-winning human-grade canning plants". These facilities meet international standards for human food production.
Tiki Cat explains that they source ingredients as close to their manufacturing plant as they can, including fish from Thai waters. Their fisheries are part of the International Seafood Sustainability Foundation (ISSF) and support conservation initiatives that help to protect marine environments.
Now that you know more about Tiki, it's time to look at their products more closely. To help you decide on whether their cat food is the right fit for your feline, we've reviewed their highest rated dry and wet cat food below. 
Tiki Cat Born Carnivore Chicken & Egg Grain-Free Dry Cat Food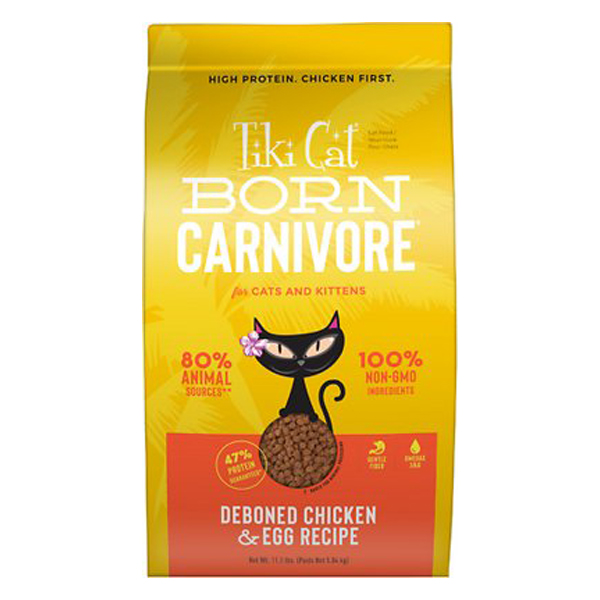 Made with real, high quality chicken and chicken liver

Packed with nutrient rich superfoods 

Gently baked to preserve nutrients and enhance palatability 

Good source of Omega 3 and 6 fatty acids 
Contains egg which is a common allergen
Because cats are what's known as obligate carnivores, they need a high protein diet featuring nutrients only found in animal meat. That is why Tiki Cat's Born Carnivore dry food line offers at least 44% of protein on average in their products. You are guaranteed high quality protein as the #1 ingredient—absolutely no fillers or additives. 
This recipe is also made without potatoes, corn, rice or wheat for optimal digestibility. Not to mention all Tiki Cat food is made without animal by-products, artificial colors, flavors and preservatives. 
The chicken and egg formula in particular packs a punch with real chicken as the first ingredient to help maintain lean muscle and chicken liver to add extra flavor. It's gently baked to preserve all of the good nutrients and superfoods such as pumpkin, salmon oil and ground whole flaxseed. All to provide your feline with healthy skin, healthy joints and healthy weight maintenance. This is a complete and balanced diet for all life stages. 
Tiki Cat Born Carnivore Chicken & Egg Grain-Free Dry Cat Food contains 482 calories per cup. 
Ingredients:
Deboned Chicken, Chicken Meal, Dehydrated Chicken, Dried Egg Product, Tapioca, Natural Chicken Flavor, Ground Whole Flaxseed, Chickpeas, Peas, Chicken Fat (Preserved With Mixed Tocopherols And Citric Acid), Brewers Dried Yeast, Calcium Sulfate, Choline Chloride, Inulin (Prebiotic), Salmon Oil, Pumpkin, Taurine, Ferrous Sulfate, Zinc Sulfate, Vitamin E Supplement, Niacin Supplement (Vitamin B3), Copper Sulfate, Vitamin A Supplement, Manganese Sulfate, Thiamine Mononitrate (Vitamin B1), D-Calcium Pantothenate, Pyridoxine Hydrochloride (Vitamin B6), Biotin, Riboflavin Supplement (Vitamin B2), Vitamin B12 Supplement, Vitamin D3 Supplement, Calcium Iodate, Folic Acid, Sodium Selenite, Rosemary Extract, Ascorbic Acid (Preservative), Citric Acid, Tannic Acid.
Tiki Cat Hawaiian Grill Ahi Tuna Grain-Free Canned Cat Food
Wild caught, shredded ahi tuna is the first ingredient

Shredded meat formula is great for finicky eaters

High moisture recipe made with real tuna broth for ultimate hydration

Free from grains, carbs, by-products and artificial ingredients

Nutrient rich food containing essential amino acids, vitamins and minerals
Includes sunflower seed oil which isn't an ideal fat source
This delicious and nutritious wet cat food promises high levels of moisture, taste and health benefits. Firstly, it boasts fresh, wild-caught shredded tuna drizzled in a savory tuna broth to keep your cat hydrated and support both urinary and digestive health. We also love that Tiki Cat only sources Dolphin-safe tuna. 
In virtue of being a grain-free, high protein, low carbohydrate formula, this is nutritionally precise for your carnivorous feline friend. Not to mention, it's also fortified with essential vitamins, minerals, taurine and omegas to nourish your cat's heart, vision, skin and coat health. Plus, it's free from any artificial colors, flavors and preservatives. 
This complete and balanced recipe is perfectly suitable for every cat regardless of age and even picky eaters won't be able to resist this moisture-rich texture. 
Tiki Cat Hawaiian Grill Ahi Tuna Grain-Free Canned Cat Food contains 70 calories per 2.8 oz can. 
Ingredients:
Tuna, Tuna Broth, Sunflower Seed Oil, Calcium Lactate, Tricalcium Phosphate, Choline Chloride, Taurine, Vitamin E Supplement, Zinc Sulfate, Iron Sulfate, Thiamine Mononitrate (Vitamin B1), Niacin (Vitamin B3), Calcium Pantothenate, Manganese Sulfate, Vitamin A Supplement, Potassium Iodide, Copper Sulfate, Riboflavin Supplement (Vitamin B2), Pyridoxine Hydrochloride (Vitamin B6), Folic Acid, Vitamin D3 Supplement, Vitamin B12 Supplement.
High protein content with real salmon and chicken

Made with fiber for easy digestion

Delivers antioxidant nutrients to support a healthy immune system

Tasty and smooth palatable consistency that's great for picky eaters 

Complete and balanced for seniors
Includes sunflower seed oil which isn't an ideal fat source
If you're looking for a high-quality, nutritious meal for your older cat, Tiki Cat's Velvet Mousse is just the thing you need. It's full of flavor and protein to keep your cat living healthy and strong. With real salmon, chicken and gentle fiber in the recipe, your furry friend can continue to maintain their muscle mass and playfulness.
You don't have to worry about their digestion or hydration with this formula either. It's fortified with antioxidant nutrients and amino acids to keep their digestion in tip top shape. And the savory broth is enough to provide your cat the moisture and hydration that he or she needs. Besides This tasty, paw-licking recipe is complete and balanced to meet the nutritional levels established by the AAFCO. 
Tiki Cat Velvet Senior Mousse contains 69 calories per pouch. 
Ingredients:
Salmon broth, salmon, chicken, pumpkin, sunflower seed oil, dried egg, tricalcium phosphate, xanthan gum, potassium chloride, salt, choline chloride, turmeric, magnesium sulfate, taurine, tuna oil, thiamine mononitrate (vitamin B1), ferrous sulfate, vitamin E supplement, green tea extract, niacin (vitamin B3), zinc oxide, vitamin A supplement, biotin, vitamin B12 supplement, copper amino acid chelate, manganous oxide, calcium pantothenate, riboflavin supplement (vitamin B2), sodium selenite, pyridoxine hydrochloride (vitamin B6), menadione sodium bisulfite complex (source of vitamin K activity), folic acid, potassium iodide, vitamin D3 supplement.
How does Tiki stack up as a brand – Nutritional Comparisons
| | Tiki Dry Food (avg) | Industry Average |
| --- | --- | --- |
| Protein | 42.7 | 34 |
| Fat | 19 | 14 |
| Fibre | 3.5 | 4.5 |
| Avg Review (/5) | 4.4 | 4.3 |
| | Tiki Wet Food (avg) | Industry Average |
| --- | --- | --- |
| Protein | 13.6 | 10 |
| Fat | 2.3 | 4 |
| Fibre | 0.4 | 1.25 |
| Avg Review (/5) | 4.1 | 4.1 |
Tiki Cat has never been recalled.
Best Dry Cat Food from Crave
Top Blue Buffalo products
Blue Buffalo Wilderness High Protein Natural Adult Dry Cat Food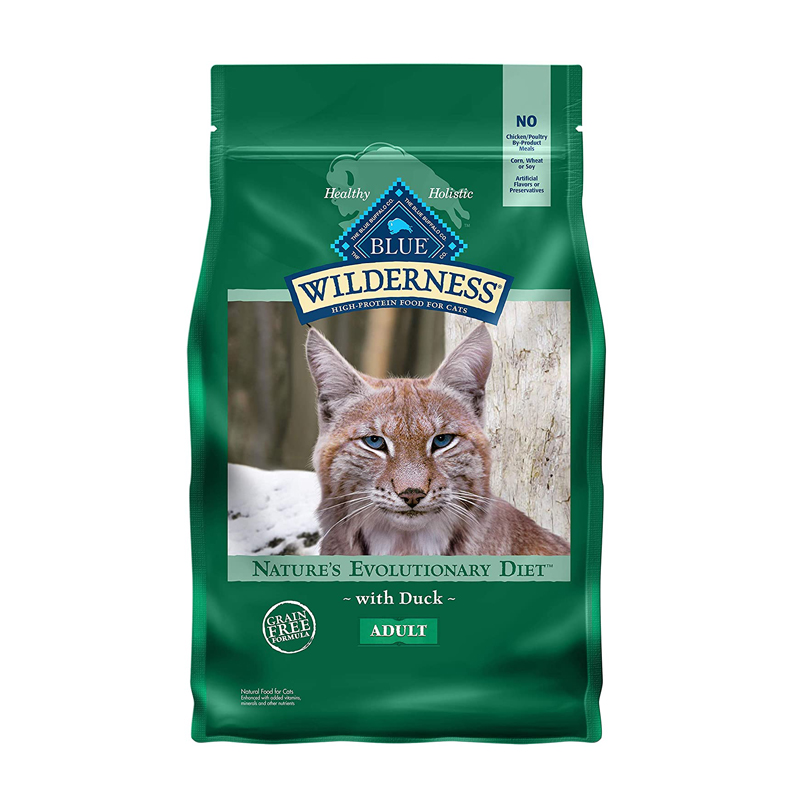 Price per 100 calories: $0.18
Blue Buffalo Indoor Health Natural Adult Dry Cat Food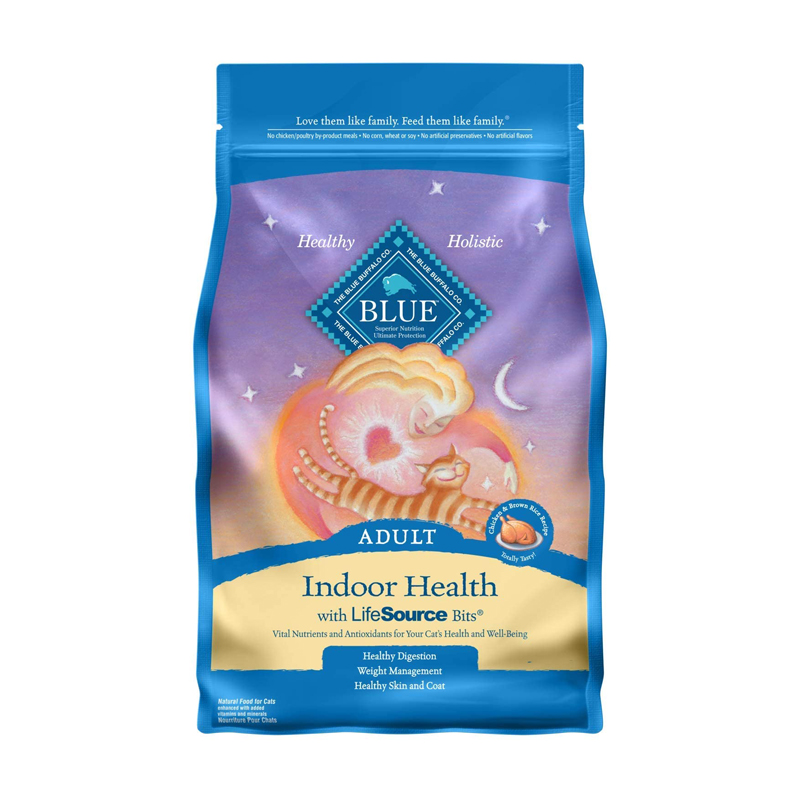 Price per 100 calories: $0.15
Complete List of Tiki Dry Food
Complete List of Tiki Wet Food
| Product | Protein | Fat | Fibre |
| --- | --- | --- | --- |
| Tiki Cat Aloha Friends Variety Pack Grain-Free Wet Cat Food, 3-oz can, case of 12 | 11 | 1.8 | 0.5 |
| Tiki Cat Puka Puka Luau Succulent Chicken in Chicken Consomme Grain-Free Canned Cat Food, 2.8-oz, case of 12 | 16 | 2.6 | 0 |
| Tiki Cat Hawaiian Grill Ahi Tuna Grain-Free Canned Cat Food, 2.8-oz, case of 12 | 16 | 2 | 0 |
| Tiki Cat Velvet Mousse Chicken Grain-Free Wet Cat Food, 2.8-oz pouch, case of 12 | 12 | 2 | 1 |
| Tiki Cat Makaha Grill Mackerel & Sardine in Calamari Consomme Grain-Free Canned Cat Food, 6-oz, case of 8 | 11 | 2 | 0 |
| Tiki Cat Tahitian Grill Sardine Cutlets Grain-Free Canned Cat Food, 2.8-oz, case of 12 | 13 | 2 | 0 |
| Tiki Cat Papeekeo Luau Ahi Tuna & Mackerel in Tuna Consomme Grain-Free Canned Cat Food, 2.8-oz, case of 12 | 17 | 2 | 0 |
| Tiki Cat Manana Grill Ahi Tuna with Prawns in Tuna Consomme Grain-Free Canned Cat Food, 6-oz, case of 8 | 17 | 2 | 0 |
| Tiki Cat Velvet Mousse Tuna & Chicken Grain-Free Wet Cat Food, 2.8-oz pouch, case of 12 | 13 | 2 | 1 |
| Tiki Cat Aloha Friends Tuna with Pumpkin Grain-Free Wet Cat Food, 3-oz can, case of 12 | 11 | 1.8 | 0.5 |
| Tiki Cat Aloha Friends Tuna with Calamari & Pumpkin Grain-Free Wet Cat Food, 5.5-oz can, case of 8 | 11 | 1.8 | 0.5 |
| Tiki Cat Aloha Friends Tuna with Shrimp & Pumpkin Grain-Free Wet Cat Food, 5.5-oz can, case of 8 | 11 | 1.8 | 0.5 |
| Tiki Cat Kapi'Olani Luau Tilapia in Tilapia Consomme Grain-Free Canned Cat Food, 2.8-oz, case of 12 | 13 | 4.5 | 0 |
| Tiki Cat After Dark Chicken & Pork Canned Cat Food, 5.5-oz, case of 8 | 13 | 2.3 | 0.6 |
| Tiki Cat Velvet Mousse Chicken & Salmon Grain-Free Wet Cat Food, 2.8-oz pouch, case of 12 | 12 | 2 | 1 |
| Tiki Cat After Dark Chicken & Beef Canned Cat Food, 5.5-oz, case of 8 | 13 | 2.3 | 0.6 |
| Tiki Cat Hana Grill Ahi Tuna with Crab in Tuna Consomme Grain-Free Canned Cat Food, 2.8-oz, case of 12 | 18.4 | 2.3 | 0 |
| Tiki Cat After Dark Chicken & Lamb Canned Cat Food, 5.5-oz, case of 8 | 13 | 2.3 | 0.6 |
| Tiki Cat Oahu Luau Seabass in Seabass Consomme Grain-Free Canned Cat Food, 2.8-oz, case of 12 | 14 | 4.7 | 0 |
| Tiki Cat Hookena Luau Ahi Tuna & Chicken in Chicken Consomme Grain-Free Canned Cat Food, 2.8-oz, case of 12 | 17 | 3 | 0 |
| Tiki Cat Lanai Grill Tuna in Crab Surimi Consomme Grain-Free Canned Cat Food, 6-oz, case of 8 | 17 | 2 | 0 |
| Tiki Cat Velvet Mousse Chicken & Egg Grain-Free Wet Cat Food, 2.8-oz pouch, case of 12 | 12 | 2 | 1 |
| Tiki Cat Bora Bora Grill Sardine Cutlets in Lobster Consomme Grain-Free Canned Cat Food, 2.8-oz, case of 12 | 11 | 3 | 0 |
| Tiki Cat After Dark Chicken & Duck Canned Cat Food, 5.5-oz, case of 8 | 12 | 2.4 | 0.7 |
| Tiki Cat After Dark Chicken & Quail Canned Cat Food, 5.5-oz, case of 8 | 12 | 2.4 | 0.7 |
| Tiki Cat Aloha Friends Tuna with Tilapia & Pumpkin Grain-Free Wet Cat Food, 5.5-oz can, case of 8 | 11 | 1.8 | 0.5 |
| Tiki Cat After Dark Chicken Canned Cat Food, 5.5-oz, case of 8 | 12 | 2.2 | 0.7 |
| Tiki Cat Velvet Mousse Salmon Grain-Free Wet Cat Food, 2.8-oz pouch, case of 12 | 12 | 2 | 1 |
| Tiki Cat Aloha Friends Tuna with Ocean Whitefish & Pumpkin Grain-Free Wet Cat Food, 5.5-oz can, case of 8 | 11 | 1.8 | 0.5 |
| Tiki Cat Velvet Mousse Tuna & Mackerel Grain-Free Wet Cat Food, 2.8-oz pouch, case of 12 | 14 | 2 | 1 |
| Tiki Cat Napili Luau Wild Salmon & Chicken in Chicken Consomme Grain-Free Canned Cat Food, 2.8-oz, case of 12 | 15 | 3.5 | 0 |
| Tiki Cat Koolina Luau Chicken with Egg in Chicken Consomme Grain-Free Canned Cat Food, 6-oz, case of 8 | 17 | 2.9 | 0 |
| Tiki Cat Hanalei Luau Wild Salmon in Salmon Consomme Grain-Free Canned Cat Food, 2.8-oz, case of 12 | 14 | 1.8 | 0 |
| Tiki Cat After Dark Variety Pack Canned Cat Food, 2.8-oz, case of 12 | 12 | 2.4 | 0.7 |
| Tiki Cat Velvet Mousse Variety Pack Grain-Free Wet Cat Food, 2.8-oz pouch, case of 12 | 14 | 2 | 1 |
| Tiki Cat King Kamehameha Grill Variety Pack Grain-Free Canned Cat Food, 2.8-oz, case of 12 | 16 | 2 | 0 |
| Tiki Cat Queen Emma Luau Variety Pack Grain-Free Canned Cat Food, 2.8-oz, case of 12 | 17 | 3 | 0 |