Even though they are a newer cat food brand, Crave has already proven themselves worthy of recognition. This mostly has to do with the fact that they are a subsidiary of Mars Petcare, one of the world's largest pet care companies. Crave was launched in 2017 with a mission to bring affordable, convenient, quality cat food to customers.
In this PR Newswire press release, Mars Petcare marketing director Eric Huston described the brand: "What sets the CRAVE brand apart is that we're offering speciality-quality nutrition at a price designed for the masses, making it affordable and convenient for all pet owners to implement a protein-rich diet that satisfies their dog or cat's inner animal."
Because cats are hunters and obligate carnivores, Crave has designed products with a "back to nature" approach. This means each recipe contains high amounts of protein to cater to their instinctual cravings and needs, or what they would naturally eat in the wild.
By providing meat-first recipes, they are making it easier for owners to implement a species-appropriate diet into their cat's normal routine. When your feline eats a protein-rich diet from Crave, they are absorbing the essential energy needed to promote muscle development and maintain a healthy immune system.
To add, Crave also cooks their dry and wet food products in their own U.S. facilities with quality ingredients. They have dedicated quality and sanitation teams in their facilities to ensure the quality of safety of every single pet food product.
Now that you know more about Crave, it's time to dive deeper into their food products. To help you better decide on whether Crave's cat food is the right fit for your feline, we've reviewed their highest rated dry and wet cat food below.
Crave with Protein from Chicken Adult Grain-Free Dry Cat Food
Real animal protein is the first ingredient

Made with 40% protein and digestible vegetables

No artificial preservatives, colors or flavors
Contains a fair amount of plant-based protein

High carbohydrate content
This might be one of the best dry cat food products currently on the market. Boasting real chicken as the first ingredient followed by chicken meal, it's guaranteed to provide cats with the nutrients and energy they need to build lean muscles and strengthen their immune system.
As it's formulated with 40% protein, this product is inspired largely by your feline's wildcat ancestors. It has the meaty flavor that cats love and crave. Plus, it's free from soy, grains and artificial additives.
This protein-rich dry cat food recipe is also packed with essential vitamins and minerals like taurine and Omega-6 fatty acids. On the flipside, it's important to note that there it contains more carbohydrates than is ideal for cats.
Crave with Protein from Chicken Adult Grain-Free Dry Cat Food contains 402 calories per cup.
Ingredients:
Chicken, Chicken Meal, Pea Protein, Split Peas, Chicken Fat (preserved with Mixed Tocopherols https://amzn.to/3lXSeok), Tapioca, Fish Meal, Dried Plain Beet Pulp, Potato Protein, Dehydrated Alfalfa Meal, Natural Flavor, Potassium Chloride, Choline Chloride, DL-Methionine, Salt, Mixed Tocopherols and Citric Acid (preservatives), Taurine, Zinc Sulfate, Vitamin E Supplement, L-Ascorbyl-2-Polyphosphate (source of Vitamin C), Iron Amino Acid Chelate, Yucca Schidigera Extract, Vitamin B12 Supplement, Copper Amino Acid Chelate, Niacin Supplement, Manganese Amino Acid Chelate, Biotin, Riboflavin Supplement (Vitamin B2), D-Calcium Pantothenate, Thiamine Mononitrate (Vitamin B1), Vitamin A Supplement, Pyridoxine Hydrochloride (Vitamin B6), Sodium Selenite, Vitamin D3 Supplement, Potassium Iodide, Folic Acid, Rosemary Extract.
If your feline friend is more partial to wet cat food, then look no further than Crave's Salmon Pate Grain-Free Cat Food Tray. Wet food is even more closely related to your cat's natural, ancestral diet, and this quality product is formulated with real meat to help give your cat optimal nourishment. Leading the ingredient list is salmon, followed by chicken, chicken liver, pork broth and chicken broth.
As a result, these food trays provide cats with the nutrients they need to develop lean muscles, healthy bodies and strong immune systems. It's packed with fiber for healthy digestion and fish oil, which provides Omega-3 fatty acids for promoting healthy coats. We especially love that it's made with no meat by-product, grains, soy or wheat, so it's even more ideal for kitties that have sensitive stomachs.
But we want to point out that Carrageenan is included on the ingredient list, and we question its presence just because it may contribute to inflammation and cancer. We would recommend following up with your veterinarian on whether this is a good choice for your cat.
Overall, this is a well-made, quality food product, sourced with the finest ingredients from all over the world. The savory pate texture is sure to satisfy your cat's cravings. And the easy-to-open, perfectly portioned trays make it simple to serve on its own or as a kibble topper.
Crave Salmon Pate Grain-Free Cat Food Trays contain 39 calories per serving.
Ingredients:
Salmon, Chicken Liver, Chicken, Pork Broth, Chicken Broth, Chicken Heart, Natural Flavor, Guar Gum, Potassium Chloride, Fish Oil (preserved with Mixed Tocopherols), Dried Tomatoes, Carrageenan, Sodium Acid Pyrophosphate, Magnesium Sulfate, Calcium Carbonate, Tetrasodium Pyrophosphate, Tapioca Starch, Salt, Choline Chloride, Sodium Hexametaphosphate, Taurine, Thiamine Mononitrate (Vitamin B1), Vitamin E Supplement, Zinc Sulfate, Ferrous Sulfate, Manganese Sulfate, Potassium Iodide, Pyridoxine Hydrochloride (Vitamin B6), Copper Sulfate, Vitamin D3 Supplement, Folic Acid, Menadione Sodium Bisulfite Complex (source of Vitamin K Activity).
How does Crave stack up as a brand – Nutritional Comparisons
| | Crave Dry Food (avg) | Industry Average |
| --- | --- | --- |
| Protein | 40 | 34 |
| Fat | 17.3 | 14 |
| Fibre | 4.7 | 4.5 |
| Avg Review ( /5) | 4.6 | 4.3 |
| | Crave Wet Food (avg) | Industry Average |
| --- | --- | --- |
| Protein | 10.5 | 10 |
| Fat | 5 | 4 |
| Fibre | 1 | 1.25 |
| Avg Review ( /5) | 4.1 | 4.1 |
Since its creation in 2017, there's been no recall of Crave Cat Food.
Best Dry Cat Food from Crave
Top Blue Buffalo products
Blue Buffalo Wilderness High Protein Natural Adult Dry Cat Food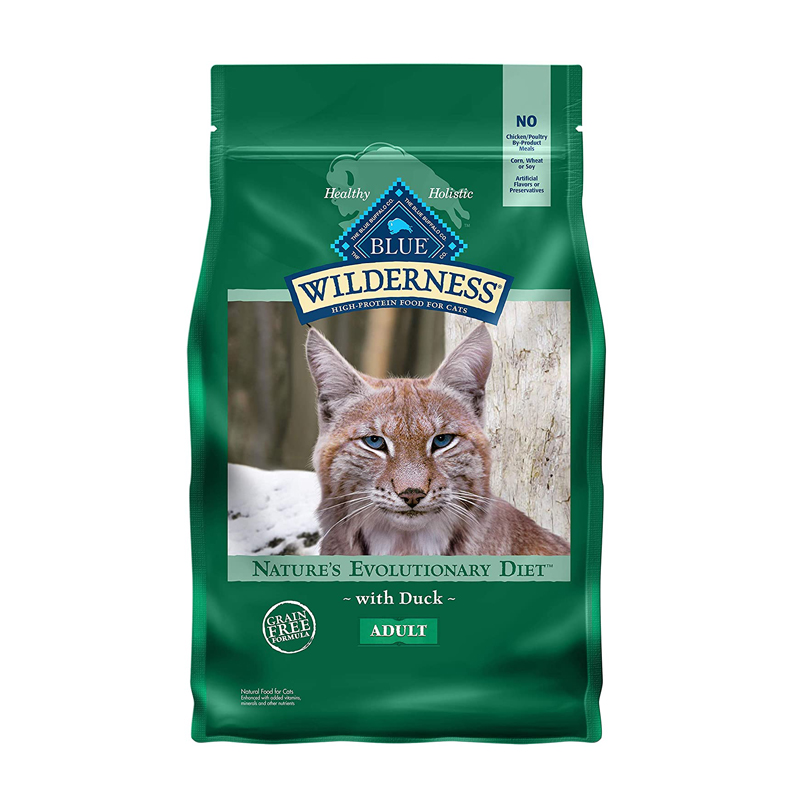 Price per 100 calories: $0.18
Blue Buffalo Indoor Health Natural Adult Dry Cat Food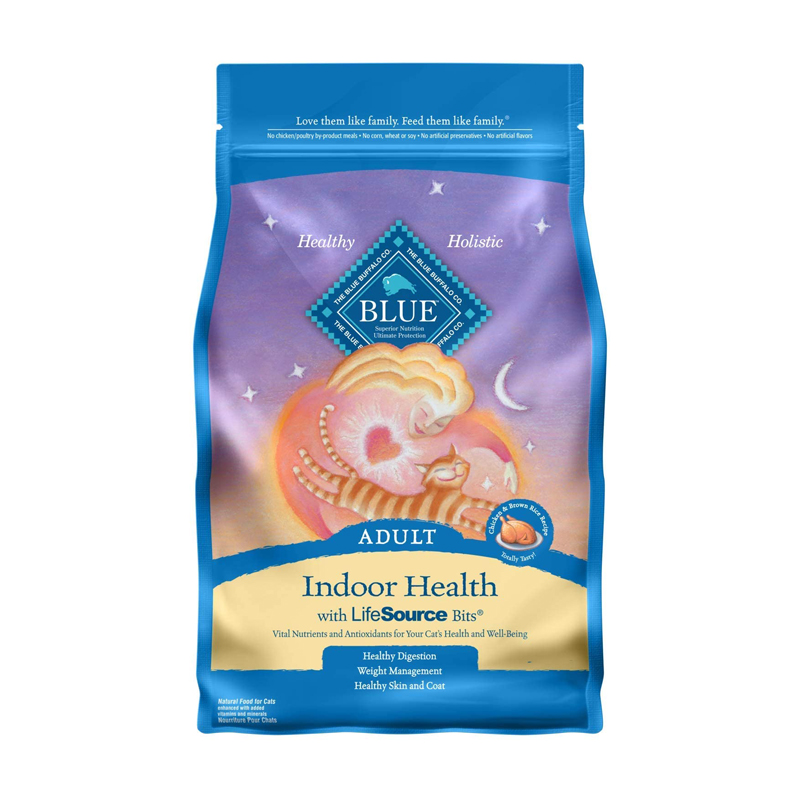 Price per 100 calories: $0.15
Complete List of Crave Dry Cat Food
| Product | Protein | Fat | Fibre |
| --- | --- | --- | --- |
| Crave with Protein from Salmon & Ocean Fish Adult Grain-Free Dry Cat Food, 10-lb bag | 40 | 18 | 4 |
| rave with Protein from Chicken Adult Grain-Free Dry Cat Food, 4-lb bag | 40 | 18 | 4 |
| Crave with Protein from Chicken & Salmon Indoor Adult Grain-Free Dry Cat Food, 4-lb bag | 40 | 16 | 6 |
| Crave Chicken & Salmon Recipes Grain-Free  Cuts in Gravy Multipack Adult Wet Cat Food Trays, 2.6-oz, case of 12 twin-packs | 9 | 4.5 | 1 |
| Crave Chicken Recipe Cuts in Gravy Grain-Free Adult Cat Food Trays, 2.6-oz, case of 24 twin-packs | 9 | 3.5 | 1 |
| Crave Salmon & Trout Recipe Grain-Free Cuts in Gravy Adult Wet Cat Food Trays, 2.6-oz, case of 24 twin-packs | 9 | 3 | 1 |
| Crave Turkey Recipe Cuts in Gravy Grain-Free Adult Cat Food Trays, 2.6-oz, case of 24 twin-packs | 9 | 4.5 | 1 |
| Crave Salmon Recipe Grain-Free Cuts in Gravy Adult Wet Cat Food Trays, 2.6-oz, case of 24 twin-packs | 9.5 | 3 | 1 |
| Crave Chicken & Beef Recipe Cuts in Gravy Grain-Free Adult Cat Food Trays, 2.6-oz, case of 24 twin-packs | 9.5 | 4 | 1 |
| Crave Turkey & Duck Recipe Cuts in Gravy Grain-Free Adult Cat Food Trays, 2.6-oz, case of 24 twin-packs | 9 | 4.5 | 1 |
| Crave Turkey & Duck Pate Grain-Free Cat Food Trays, 2.6-oz, case of 24 twin-packs | 12 | 7 | 1 |
| Crave Turkey Pate Grain-Free Cat Food Trays, 2.6-oz, case of 24 twin-packs | 12 | 7 | 1 |
| Crave Chicken & Beef Pate Grain-Free Cat Food Trays, 2.6-oz, case of 24 twin-packs | 12 | 6.5 | 1 |
| Crave Chicken & Turkey Recipe Cuts in Gravy Variety Pack Grain-Free Adult Cat Food Trays, 2.6-oz, case of 12 twin-packs | 9 | 3.5 | 1 |
| Crave Salmon & Trout Pate Grain-Free Cat Food Trays, 2.6-oz, case of 24 twin-packs | 12 | 6 | 1 |
| Crave Chicken Pate Grain-Free Cat Food Trays, 2.6-oz, case of 24 twin-packs | 12 | 6.5 | 1 |
| Crave Salmon Pate Grain-Free Cat Food Trays, 2.6-oz, case of 24 twin-packs | 12 | 5 | 1 |
| Crave Turkey Pate & Salmon Pate Multipack Grain-Free Cat Food Trays, 2.6-oz, case of 12 twin-packs | 12 | 7 | 1 |