9 Lives has a long history of caring for cats, with over 60 years as a trusted cat food brand that has supported the nutritional needs of cats everywhere. And actually, they're considered to be one of the leading labels in the cat food industry. 9 Lives believe all cats deserve to live a good life, and that includes good food, good health, and a good home. 
Founded in 1957, 9 Lives was the first wet cat food brand in the U.S. and they eventually went on to produce dry cat food. With a variety of offerings and products, 9 Lives has been fundamentally committed to making food that meets specific nutritional needs and tastes, all at an affordable price. 
They are well known for their signature orange tabby spokescat, Morris the Cat. In 1968, this adorable feline became the face of the brand after they adopted him from a shelter. And after television advertisements, he became a cherished advertising pet icon. 
9 Lives is owned and operated by Big Heart Pet Brands, a subsidiary of the J.M. Smucker Company. They manufacture their products in facilities located in Pennsylvania and Kansas. However, their wet cat food production is split between facilities in the U.S. and internationally. 
They're more than just a cat food brand; 9 Lives is exceptional because of their passion and commitment to social responsibility. They have consistently advocated for the adoption of rescue cats, have worked closely with shelters, and frequently donate both time and money to the cause.
Now that you have more background on 9 Lives, it's time to learn more about their products. To help you decide on whether their cat food is the right fit for your feline, we've reviewed their highest-rated dry and wet cat food below. 
9 Lives Indoor Complete with Chicken & Salmon Flavor Dry Cat Food
Features real chicken and salmon protein

Crafted with the needs of indoor cats in mind

Helps to support hairball control

Contains essential vitamins and minerals like B vitamins to maintain a healthy weight and metabolism

Includes taurine to support heart and eye health
The first ingredient is not animal protein
If you have a sweet indoor cat that you want to spoil while also maintaining their health, this dry kibble is exactly what you've been looking for. It's specifically crafted with an Advanced Nutrient System to help indoor cats maintain good digestive health and a healthy weight. The main animal protein ingredients are delicious, premium cuts of salmon and chicken that provide the essential amino acids your cat needs to thrive. 
Besides lean protein, it's further enriched with B vitamins, flavorful green vegetables, and fiber to help control hairballs in your cat. This recipe provides the ultimate balanced and complete diet for indoor cats. Even better, it's incredibly delicious and easy on their digestive tract with 12% moisture, considerably higher compared to other dry cat food products. 
9 Lives Indoor Complete with Chicken & Salmon Flavor Dry Cat Food contains 305 calories per cup. 
Ingredients:
Whole Ground Corn, Chicken By-product Meal, Corn Gluten Meal, Soybean Meal, Whole Wheat, Meat and Bone Meal, Animal Fat (Preserved with Mixed Tocopherols), Animal Digest, Soy Hulls, Salmon Meal, Dehydrated Alfalfa Meal, Salt, Phosphoric Acid, Titanium Dioxide (Color), Choline Chloride, Vitamins (Vitamin E Supplement, Niacin Supplement, Vitamin A Supplement, D-Calcium Pantothenate, Thiamine Mononitrate [Source of Vitamin B1], Riboflavin Supplement [Source of Vitamin B2], Pyridoxine Hydrochloride [Source of Vitamin B6], Menadione Sodium Bisulfite Complex [Source of Vitamin K Activity], Vitamin D3 Supplement, Folic Acid, Biotin, Vitamin B12 Supplement), Potassium Chloride, Minerals (Ferrous Sulfate [Source of Iron], Zinc Oxide, Manganous Oxide, Copper Sulfate, Calcium Iodate, Sodium Selenite), DL Methionine, Taurine, Red 40, BHA (Used as a Preservative), Yellow 5, Yellow 6, Blue 1, Rosemary Extract.
9 Lives Seafood & Poultry Favorites Variety Pack Canned Cat Food
Savory, meaty and tender taste and texture cats can't resist

Fortified with essential vitamins and minerals

Enriched with taurine for heart and vision health

Complete and balanced nutrition
Contains carrageenan, a controversial ingredient
This variety pack is full of protein-rich wet cat food that contains real fish and chicken. With flavors like Real Ocean Whitefish, Super Supper, and Real Chicken & Tuna—there's plenty to satisfy your cat's cravings and preferences. Not to mention, each recipe offers 100% complete nutrition for kittens and adults. 
These formulas are moist and meaty, making them irresistible to a cat's senses. Whether it's made with real chicken, tuna, or ocean whitefish, they all provide the essential protein that your cat needs to survive and thrive. And because they are canned varieties, they provide decent hydration to support your kitty's digestive tract. 
In addition to the main protein sources, each recipe is fortified with additional taurine to boost the functionality of your cat's vision and heart health. Perfect for cats of all life-stages, this is a hit with felines everywhere. 
9 Lives Seafood & Poultry Favorites contains 168 calories per can.
Ingredients:
Meat by-products, water sufficient for processing, chicken, poultry by-products, fish, brewers rice, titanium dioxide (color), potassium chloride, salt, sodium tripolyphosphate, guar gum, calcium carbonate, choline chloride, carrageenan, vitamins (vitamin E supplement, thiamine mononitrate, niacin supplement, vitamin A supplement, d-calcium pantothenate, riboflavin supplement, pyridoxine hydrochloride, menadione sodium bisulfite complex, vitamin D3 supplement, folic acid, biotin, vitamin B12 supplement), taurine, minerals (ferrous sulfate, zinc oxide, manganous oxide, copper sulfate, calcium iodate, sodium selenite), sodium nitrite (for color retention).
How does 9 Lives stack up as a brand – Nutritional Comparisons
| | | |
| --- | --- | --- |
| | 9 Lives Dry Food (avg) | Industry Average |
| Protein | 31 | 34 |
| Fat | 9.2 | 14 |
| Fibre | 3.6 | 4.5 |
| Avg Review ( /5) | 4.5 | 4.3 |
| | | |
| --- | --- | --- |
| | 9 Lives Wet Food (avg) | Industry Average |
| Protein | 9.2 | 10 |
| Fat | 3.4 | 4 |
| Fibre | 1.0 | 1.25 |
| Avg Review ( /5) | 4 | 4.1 |
9 Lives has been involved with a few recalls over the years. But that's expected for a company that has been in the industry for a long time. Recalls are a good thing to be aware of, but they can happen for a variety of reasons. 
Here's a brief snapshot of the brand's recall history, starting with the most recent: 
2020
This recall affected specific batches of 9 Lives Protein Plus wet canned food due to low levels of thiamine, an essential B1 vitamin for cats. No illnesses were reported and these were recalled out of precautionary measures. 
2018
Some varieties of 9 Lives cat food were recalled this year due to potentially low levels of thiamine. 
2017
Several flavors of 9 Lives canned food were recalled due to low levels of thiamine. This recall was also expanded 8 days later to include more products. 
9 Lives has been recalled three times, with March 11, 2020 being the most recent incident. Its mother company J.M. Smucker's most recent recall happened on July 3, 2020.
Best Dry Cat Food from Crave
Top Blue Buffalo products
Blue Buffalo Wilderness High Protein Natural Adult Dry Cat Food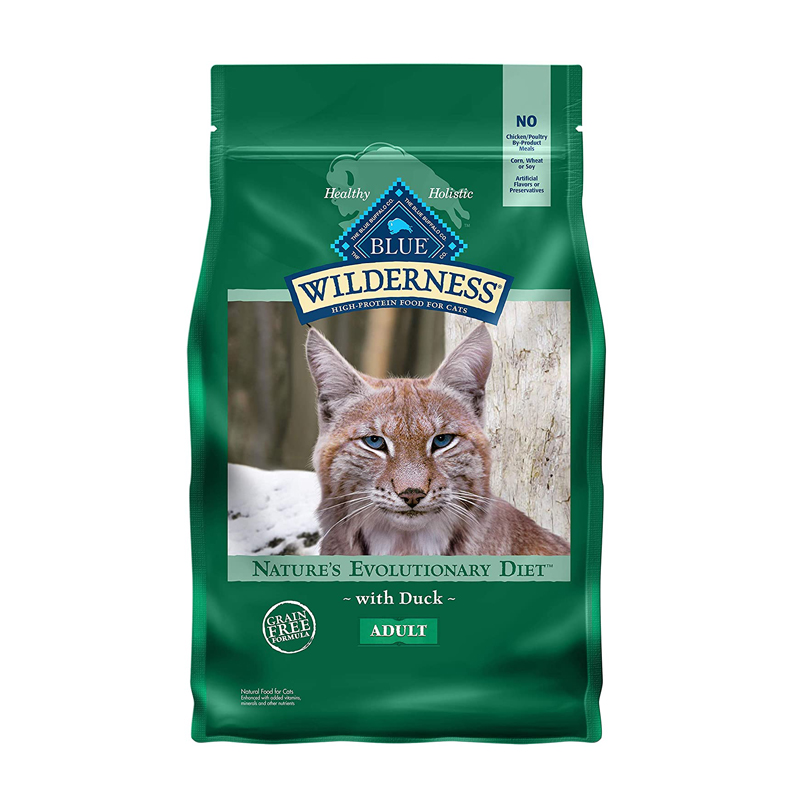 Price per 100 calories: $0.18
Blue Buffalo Indoor Health Natural Adult Dry Cat Food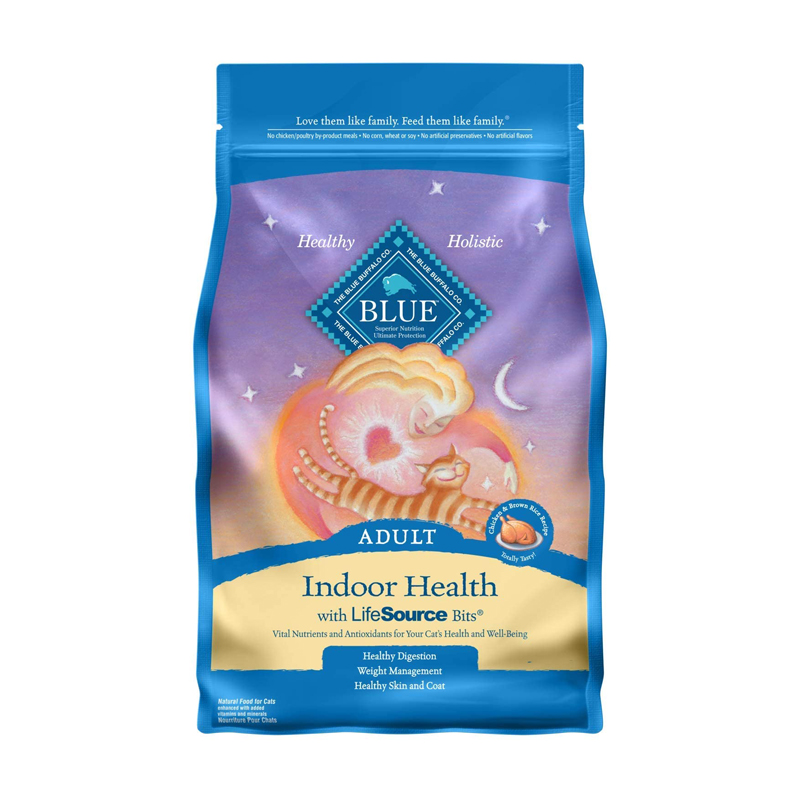 Price per 100 calories: $0.15
Complete List of 9 Lives Dry Cat Food
Complete List of 9 Lives Wet Cat Food
| Product | Protein | Fat | Fibre |
| --- | --- | --- | --- |
| 9 Lives Seafood & Poultry Favorites Variety Pack Canned Cat Food, 5.5-oz, case of 24 | 9 | 4.5 | 1 |
| 9 Lives Meaty Favorites Variety Pack Canned Cat Food, 5.5-oz, case of 36 | 9 | 4.5 | 1 |
| 9 Lives Poultry & Beef Favorites Variety Pack Canned Cat Food, 5.5-oz, case of 24 | 8 | 2 | 1 |
| 9 Lives Meaty Pate with Real Beef Canned Cat Food, 13-oz, case of 12 | 9 | 4.5 | 1 |
| 9 Lives Hearty Cuts with Real Turkey, Chicken & Cheese in Gravy Canned Cat Food, 5.5-oz, case of 24 | 8 | 2.5 | 1 |
| 9 Lives Tender Morsels with Real Turkey & Giblets in Sauce Canned Cat Food, 5.5-oz, case of 24 | 8 | 2.5 | 1 |
| 9 Lives Hearty Cuts with Real Chicken & Cheese in Gravy Canned Cat Food, 5.5-oz, case of 24 | 8 | 2.5 | 1 |
| 9 Lives Meaty Pate with Real Tuna & Shrimp Canned Cat Food, 5.5-oz, case of 24 | 9 | 4.5 | 1 |
| 9 Lives Protein Plus with Tuna and Liver Canned Cat Food, 5.5-oz, case of 24 | 12 | 4.5 | 1 |
| 9 Lives Tender Morsels with Real Ocean Whitefish, Tuna & Cheese Bits in Sauce Canned Cat Food, 5.5-oz, case of 24 | 8 | 2.5 | 1 |
| 9 Lives Tender Morsels with Real Ocean Whitefish & Tuna In Sauce Canned Cat Food, 5.5-oz, case of 24 | 9 | 2.5 | 1 |
| 9 Lives Hearty Cuts with Real Turkey in Gravy Canned Cat Food, 5.5-oz, case of 24 | 8 | 2.5 | 1 |
| 9 Lives Hearty Cuts with Real Beef in Gravy Canned Cat Food, 5.5-oz, case of 24 | 8 | 2 | 1 |
| 9 Lives Hearty Cuts with Real Beef & Chicken in Gravy Canned Cat Food, 5.5-oz, case of 24 | 8 | 2 | 1 |
| 9 Lives Meaty Pate Seafood Platter Canned Cat Food, 5.5-oz, case of 24 | 9 | 4 | 1 |
| 9 Lives Meaty Pate with Real Ocean Whitefish Canned Cat Food, 5.5-oz, case of 24 | 9 | 4.5 | 1 |
| 9 Lives Protein Plus with Tuna and Chicken Canned Cat Food, 5.5-oz, case of 24 | 12 | 4.5 | 1 |
| 9 Lives Meaty Pate with Real Chicken & Tuna Canned Cat Food, 5.5-oz, case of 24 | 9 | 4.5 | 1 |
| 9 Lives Meaty Pate Mixed Grill Canned Cat Food, 5.5-oz, case of 24 | 10 | 5 | 1 |
| 9 Lives Meaty Pate Poultry Supper Canned Cat Food, 5.5-oz, case of 24 | 10 | 5 | 1 |
| 9 Lives Tender Morsels with Real Flaked Tuna & Cheese Bits in Sauce Canned Cat Food, 5.5-oz, case of 24 | 14 | 2.5 | 1 |
| 9 Lives Meaty Pate with Real Chicken Canned Cat Food, 5.5-oz, case of 24 | 9 | 4.5 | 1 |
| 9 Lives Turkey Favorites in Gravy Variety Pack Canned Cat Food, 5.5-oz, case of 24 | 9 | 3 | 1 |
| 9 Lives Meaty Pate Super Supper Canned Cat Food, 5.5-oz, case of 24 | 9 | 4.5 | 1 |
| 9 Lives Tender Morsels with Real Flaked Tuna & Egg Bits in Sauce Canned Cat Food, 5.5-oz, case of 24 | 14 | 2 | 1 |
| 9 Lives Surf 'N Turf Favorites Variety Canned Cat Food, 5.5-oz, case of 24 | 8 | 2.5 | 1 |
| 9 Lives Gravy Favorites Variety Pack Canned Cat Food, 5.5-oz, case of 12 | 8 | 2 | 1 |
| 9 Lives Seafood & Turkey Favorites Variety Pack Canned Cat Food, 5.5-oz, case of 24 | 8 | 2.5 | 1 |
| 9 Lives Pate Favorites Variety Pack Canned Cat Food, 5.5-oz, case of 12 | 9 | 4.5 | 1 |