Stella and Chewy's Cat Food Review
The story of Stella and Chewy's began when Marie Moody adopted a dog named Stella from a local animal shelter in 1997. She wanted Stella to have a friend, so shortly after she adopted a sick puppy named Chewy. In order to support Chewy's health, Marie consulted a veterinarian and began to feed him a raw diet as a result. Chewy quickly recovered and Stella also thrived on a raw diet; then the idea for her company was planted. 
Marie turned this realization and experience into Stella and Chewy's in 2003. Just out of her small kitchen in her 600 square foot, one-bedroom apartment in Brooklyn, New York, Marie continued her passion for pet nutrition and the raw food was a hit in the neighborhood and word caught on. Nowadays, the company has been producing food in a much larger kitchen—its main facility in Oak Creek, Wisconsin. 
Since its creation, Stella and Chewy's has operated under the belief that most pets are most likely to thrive when they are fed the same diet as they are in the wild. That's why they use the highest quality raw ingredients to ensure complete and balanced nutrition.
All of their pet food products are made in FDA-inspected plants in the Milwaukee, Wisconsin area. They work closely with a small, select group of suppliers to ensure the quality and safety of their ingredients and production process. 
While many traditional kibbles are made using an extrusion process, Stella and Chewy's patented food safety process known as SecureByNature® involves high-pressure processing, which is a low-temperature process that leaves the food's color, texture, flavor, and nutrient value intact while destroying pathogenic organisms.
Beyond its commitment to nutrition, the company is also dedicated to animal welfare and doing its part to support local shelters and rescues. 
Now that you have more background on Stella and Chewy's, it's time to dive deeper into their cat food. To help you better decide on whether their products are the right fit for your feline, we've reviewed their highest rated cat food below.
Stella & Chewy's Chick Chick Chicken Dinner Morsels Freeze-Dried Raw Cat Food
Contains 98% protein made from real animal meat, organ and bones

Fortified with taurine and probiotics for dietary health

The benefits of raw food with the convenience of dry food

Made to mimic a cat's natural diet in the wild

No grains, gluten, fillers or artificial flavors or preservatives

100% complete and balanced recipe for all life stages
The pellets tend to be too large for some cats
For an all-natural recipe your cat will be clawing over, go with Stella & Chewy's natural freeze-dried food. This is a high-quality, affordable diet and potentially one of the best value picks for what you get – sustainably sourced ingredients, raw protein, and essential vitamins for your cat's health. As such, it is made to build and maintain strong muscles for your cat. Then it's all made to be freeze-fried, providing your feline friend with real and raw nutrition. 
This food is made to closely mimic a cat's natural diet in the wild: high in protein and low carbohydrates. For this reason, the product's recipe is 98% of poultry meat, organ, and bone. So it's not only rich in animal protein but contains no grains or gluten. Additional nutrients include taurine, probiotics, antioxidants, and Vitamins A and E. 
The morsels are freeze-dried and the limited ingredient recipe is made in small batches right here in the USA. It's the perfect choice if you want convenience, something that tastes good, and if you're trying to transition your kitty to a high-moisture diet. You can easily feed it as is (raw) or slowly rehydrate it by adding cool or warm (never hot) water. 
Overall, this is a simple, holistic recipe with limited ingredients. It's important to note that pet parents and vets claim raw food to have a positive effect on appetite, digestion, immune system, teeth health, and skin and coat health. 
Stella and Chewy's Chick Chick Chicken Dinner Morsels Freeze-Dried Raw Cat Food contains 182 calories per cup.
Ingredients:

Chicken (ground with bone), Chicken Liver, Chicken Gizzard, Pumpkin Seed, Potassium Chloride, Sodium Phosphate, Choline Chloride, Dried Pediococcus acidilactici Fermentation Product, Dried Lactobacillus acidophilus Fermentation Product, Dried Bifidobacterium longum Fermentation Product, Dried Bacilius coagulans Fermentation Product, Taurine, Tocopherols (Preservative), Dandelion, Dried Kelp, Zinc Proteinate, Iron Proteinate, Vitamin E Supplement, Niacin Supplement, Copper Proteinate, Riboflavin Supplement, Sodium Selenite, D-Calcium Pantothenate, Biotin, Man;ganese Proteinate, Thiamine Mononitrate, Pyridoxine Hydrochloride, Vitamin D3 Supplement, Folic Acid, Vitamin B12 Supplement.
How does
Stella and Chewy's

stack up as a brand – Nutritional Comparisons
Stella and Chewy's 

DRY Food
| | | |
| --- | --- | --- |
| | Stella and Chewy's Dry Food (avg) | Industry Average |
| Protein | 42.6 | 34 |
| Fat | 26.7 | 14 |
| Fibre | 5.0 | 4.5 |
| Avg Review ( /5) | 4.1 | 4.3 |
Stella & Chewy's was recalled twice in 2015 due to potential listeria contamination of a variety of frozen and freeze-dried products.
Best Dry Cat Food from Crave
Top Blue Buffalo products
Blue Buffalo Wilderness High Protein Natural Adult Dry Cat Food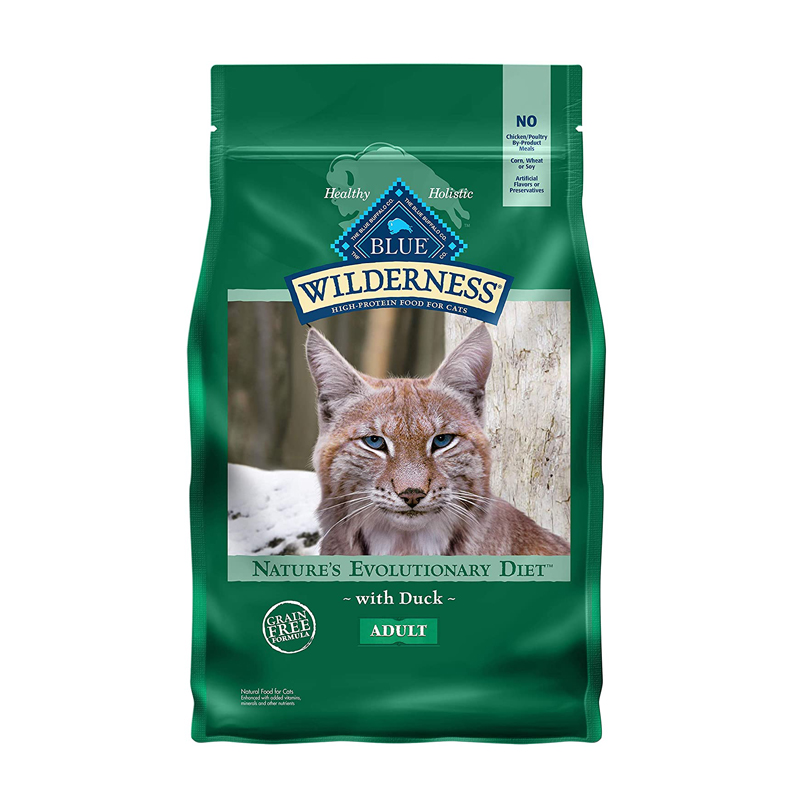 Price per 100 calories: $0.18
Blue Buffalo Indoor Health Natural Adult Dry Cat Food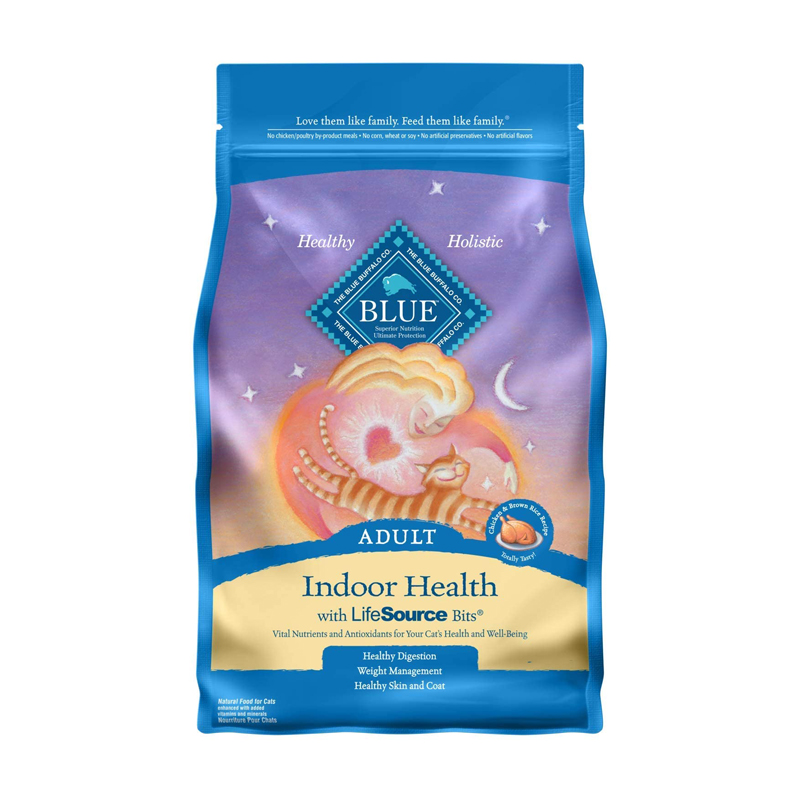 Price per 100 calories: $0.15
Complete List of
Stella and Chewy's 

Dry Cat Food
| Product | Protein | Fat | Fibre |
| --- | --- | --- | --- |
| Stella & Chewy's Tummy Ticklin' Turkey Dinner Morsels Freeze-Dried Raw Cat Food, 18-oz bag | 40 | 37 | 5 |
| Stella & Chewy's Yummy Lickin' Salmon & Chicken Dinner Morsels Freeze-Dried Raw Cat Food, 18-oz bag | 45 | 15 | 5 |
| Stella & Chewy's Marie's Magical Dinner Dust Cage Free Chicken Recipe Freeze-Dried Raw Cat Food Topper, 7-oz bag | 45 | 25 | 5 |
| Stella & Chewy's Marie's Magical Dinner Dust Wild Caught Salmon & Cage Free Chicken Recipe Freeze-Dried Raw Cat Food Topper, 7-oz bag | 45 | 15 | 5 |
| Stella & Chewy's Stella's Solutions Skin & Coat Duck & Salmon Freeze-Dried Raw Cat Food, 7.5-oz bag | 35 | 35 | 5 |
| Stella & Chewy's Stella's Solutions Digestive Boost Chicken Freeze-Dried Raw Cat Food, 7.5-oz bag | 42 | 27 | 5 |
| Stella & Chewy's Sea-licious Salmon & Cod Dinner Morsels Freeze-Dried Raw Cat Food, 8-oz bag | 45 | 28 | 5 |
| Stella & Chewy's Absolutely Rabbit Dinner Morsels Freeze-Dried Raw Cat Food, 8-oz bag | 44 | 30 | 5 |
| Stella & Chewy's Duck Duck Goose Dinner Morsels Freeze-Dried Raw Cat Food, 18-oz bag | 40 | 30 | 5 |
| Stella & Chewy's Chick Chick Chicken Dinner Morsels Freeze-Dried Raw Cat Food, 18-oz bag | 45 | 25 | 5 |